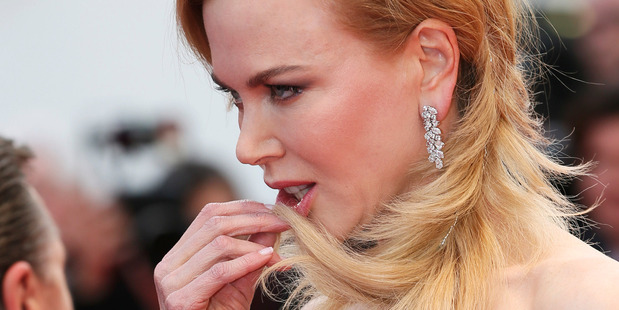 Oscar winner Nicole Kidman defended her new picture Grace of Monaco after a critics' mauling at the opening of the Cannes Film Festival but admitted a boycott by the princess's family was "awkward".
Kidman, 46, stars as the American actress turned European royalty Grace Kelly in the French production kicking off the 12-day extravaganza, which generated serious off-screen drama ahead of its red-carpet premiere.
Critics howled after an early preview, with Britain's daily Guardian calling the picture a "breathtaking catastrophe" in a one star review.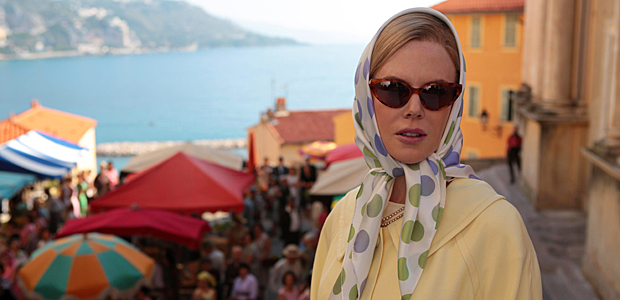 "Naomi Watts set the bar high with last year's Princess-Di disaster. But Nicole Kidman has outdone her,'' the review said.
The Hollywood Reporter called the film "relentlessly middlebrow mush'' while Variety described it as a "cardboard and frequently cornball melodrama''.
Empire magazine said it was "often side-splittingly funny. The trouble is, its not actually meant to be a comedy''.
Kidman was not spared the wrath of critics, though reception of her performance was slightly more favourable.
"Kidman excels in a role in which she is called on to project glamour and suffering in equal measure,'' The Independent said in one of few positive reviews of the film.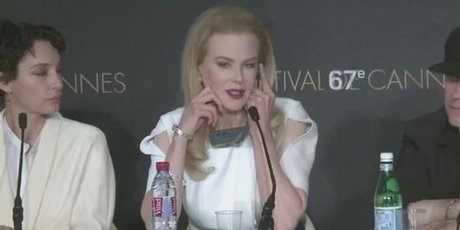 Grace of Monaco had also been plagued by a long-standing tussle between director Olivier Dahan and US distributor Harvey Weinstein over the final version of the film.
Weinstein had reportedly considered dropping the rights to the film altogether but a deal has been reached for US distribution.
"There is no dispute anymore, everything has been resolved. We're working together, and I'm happy about it,'' Dahan said.
Kidman gave her maligned director a little squeeze as she faced the press with a smile.
When asked about the decision by Grace's children, Prince Albert II and his sisters Caroline and Stephanie, to angrily dismiss the film this month as "totally fictional", she said she hoped they would still watch it one day.
"Obviously I feel sad because I think that the film has no malice towards the family or in particular towards Grace or (Prince) Rainier," she said.
She acknowledged that the filmmakers had taken liberties with the facts in their tale of Grace's role in quashing palace intrigue and resolving a dispute with France that threatened the tiny principality's independence.
"There's the essence of truth but with a lot of these things, you take dramatic licence at times," she said.
"But I want them to know that the performance was done with love and ultimately if they ever did see it, they would see that there was an enormous amount of affection for both their parents, and the love story of their parents."
Kidman, who bears a remarkable physical similarity to the statuesque Grace in the film, said she watched old newsreel footage and classic Kelly movies such as Alfred Hitchcock's Rear Window to prepare for the role.
"She was really, really smart with an enormous passion for life and curiosity," Kidman said.
"She fascinated me and still does and obviously she fascinates the world."
The Australian-born actress said she could identify with Grace, who turned her back on Hollywood for the sake of her family.
Asked whether she would give up acting for love, Kidman said she would in a heartbeat.
"I've never had to but I would, absolutely. I wouldn't even think twice about it," she said.
Kidman said her biggest career triumphs, such as her 2003 Academy Award for playing Virginia Woolf in The Hours, had coincided with heartache, presumably referring to the lingering pain from her 2001 divorce from Tom Cruise.
"That was the most intensely lonely period of my life," she said.
"I'm hoping one day I can have a professional high and an emotional high, personal high. I don't know if that's ever possible."
Kidman joked that her current husband, Nashville singer Keith Urban, was her "country prince" and said their two daughters had given her the "emotion of being able to die for somebody".
"As soon as you have that selflessness, your whole life changes and everything gets put into perspective."
Dahan, whose 2007 portrait of singer Edith Piaf La Vie en Rose won star Marion Cotillard an Academy Award, had stridently defended the film against interference by powerful US distributor Harvey Weinstein in an ugly public spat.
He told reporters he and Weinstein had reached a truce which will allow the film to be screened in the world's biggest film market, and said he was within his rights to embellish a few historical facts.
"It's a portrait, it's never been a biopic in my mind, from the very beginning," he said.
"We've tried to make a complex movie but very accessible (at) the same time."
Grace of Monaco will be released in New Zealand on May 29.
- AFP/AAP