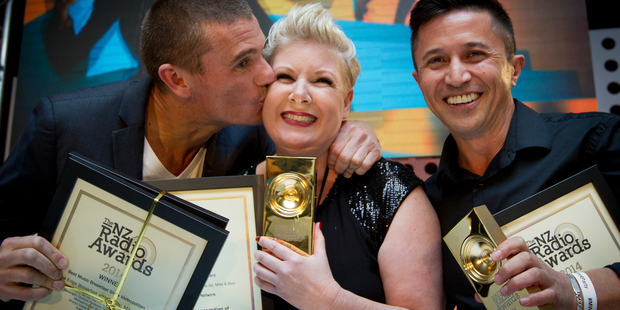 Winners of the New Zealand Radio Awards have been named at The Cloud in downtown Auckland tonight.
Pop station The Edge took home a record haul of gongs, including Station of the Year, Best Music Breakfast Show and the inaugural Sir Paul Holmes Broadcaster of the Year award, which was presented by his son Reuben Holmes.
Reuben's sister Millie, who was unable to attend the ceremony due to University commitments, told the Herald she is honoured her brother could pay homage to their dad.
The Sir Paul Holmes Broadcaster of the Year award went to the overall winner of the 2014 Radio Awards and was selected by the Awards Committee from all the winners.
It was awarded to The Edge breakfast show. It is a new award this year and named after the legendary broadcaster who passed away last year after a battle with cancer.
The inaugural 'Blackie' award, named after legendary radio broadcaster Kevin Black who passed away suddenly last year, was awarded for a "golden moment" in radio and was presented by Kristen Black, Kevin's wife.
It went to The Edge's Jay-Jay, Mike and Dom for their parody of Miley Cyrus' raunchy Wrecking Ball promo.
A number of new categories were included in the awards this year, including recognition of the growing digital impact on radio.
The ceremony was hosted by Jay-Jay Feeney and Kerre McIvor, and webcast live.
Newstalk ZB took home a number of gongs, including Best Current Affairs Host to Mike Hosking, Best Talkback Host to Leighton Smith, and Best Sports Commentator to Peter Montgomery.
Dallas Gurney, who oversees programming for both Newstalk ZB and Radio Sport, was honoured as Best Programmer.
Awards were also presented to Murray Deaker, Belinda Mulgrew and David Brice for their outstanding contribution to radio. Brent Birchfield, Errol Wilkinson and Justin de Fresne were honoured for services to broadcasting.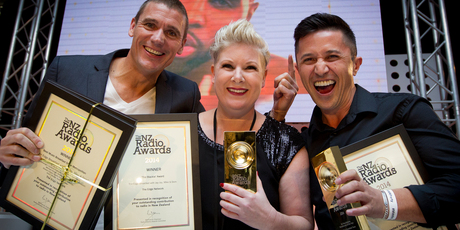 Big winners:
Best Talk or Current Affairs Host: Mike Hosking, Newstalk ZB
Best Talkback Host: Leighton Smith, Newstalk ZB
Best Newsreader: Hilary Barry, RadioLive
Best Music Breakfast Show: The Edge Breakfast with Jay-Jay, Mike and Dom, The Edge
Best Music Non-Breakfast Hosts: Robert Taylor and Jono Pryor, The Rock
Best Programmer: Dallas Gurney, Newstalk ZB and Radio Sport
Best Sports Commentator: Peter Montgomery, Newstalk ZB
The 'Blackie Award': Jay-Jay, Mike and Dom Wrecking Ball, The Edge
The Sir Paul Holmes Broadcaster of the Year: The Edge Breakfast with Jay-Jay, Mike and Dom
Station of the Year: The Edge, MediaWorks
Outstanding Contribution to Radio: Murray Deaker, Belinda Mulgrew and David Brice
Services to Broadcasting: Brent Birchfield, Errol Wilkinson and Justin de Fresne