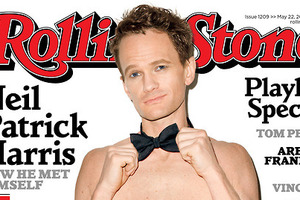 Neil Patrick Harris has become the latest star to strip off for the cover of Rolling Stone.
The How I Met Your Mother star shows off the toned body he achieved while shaping up for his Broadway run as a transgender rocker in Hedwig and the Angry Inch.
Harris wears nothing but a bow-tie and a strategically-placed top hat to cover his manhood for the cover shot.
In the story, Harris tells the magazine that coming out helped his career.
"Once all the cards were on the table, I got more opportunities than ever," he says.
"Some actors don't get hired because you can't look into their soul and see what they're like, because they're kept guarded."
Julia Louis-Dreyfus also posed naked for a Rolling Stone issue that hit stands last month.
- WENN