A lifetime has gone into mum and son's album, says Paula Yeoman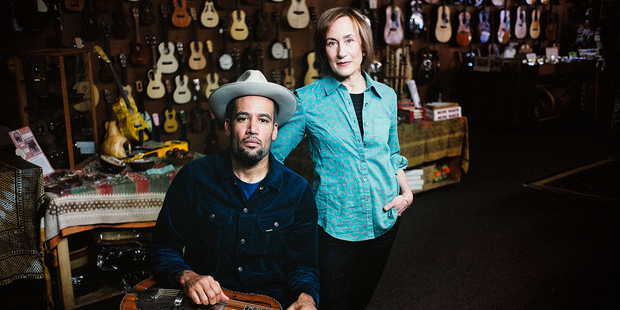 Ben Harper and his mother Ellen are releasing their first collaboration. Ellen Harper is first on the phone; she's at home in Claremont, California. Next to join the conversation is her son, singer-songwriter Ben Harper. He's also at home, less than an hour's drive away.
Three-way interviews, particularly when one of you is in another country on a line with a slight delay, are never easy. But if anyone can turn an awkward situation into an enjoyable experience, it's the calm, considerate Harpers.
The way they interact on the phone - Ben responding first to each question with a respectful, "Ma, you go first" and Ellen finishing off each answer with, "Ben, what do you think?" provides an inkling as to how they worked together in the studio on their first official collaboration, Childhood Home.
"Ben is the producer on the album and I recognised that and I was grateful for that. Both of us went in being careful of each other's feelings," says Ellen, a musician herself, who raised Ben and two other sons on her own.
Surely there must have been the odd disagreement in the studio? "No, none at all," replies Ben, quick as a flash. "Where you're coming from makes a whole heck of a lot of sense. You know, try painting a picture let alone making an entire record with your mom or dad. But the complexities of family over a lifetime were completely left at the door. I was thankful that my mom was trusting me enough to steer the ship."
The Folk Music Centre and Museum in Claremont, established by Ellen's parents in the late 1950s, is the focal point for Childhood Home, which explores the intricacies of family life.
Ellen now runs the West Coast centre and says it was "much more than a store". It was where she would help out after school as a teenager and where her boys grew up, among the banjos, ukuleles and guitars.
"It brought a cultural ethnicity and eccentricity to the forefront of my upbringing, which made it seem incredibly normal and stable," says Ben.
The album came together pretty quickly once the pair found the time to record the songs they'd been setting aside. But as Ben aptly sums up, the magic started well before they finally reached the studio. "We've been on stage numerous times together over the years and having grown up listening to my mom's music and taking part in her music over the years; you could say it's been a lifetime of pre-production."
Childhood Home is out now.