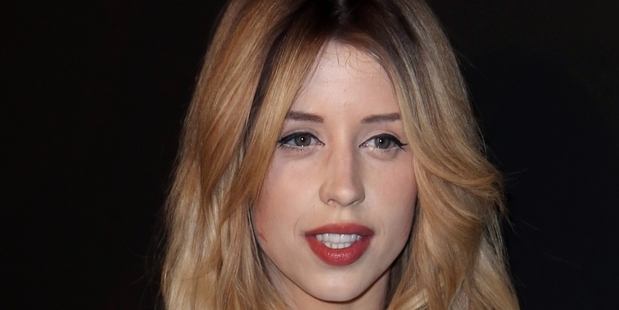 Police in Britain are conducting an ongoing investigation into the supply of drugs in connection with Peaches Geldof's death, after an inquest found she had recently used heroin.
During a brief hearing in Gravesend, Kent, Detective Chief Inspector Paul Fotheringham said a toxicology report showed "recent use of heroin and the levels identified were likely to have played a role in her death" after an initial post-mortem examination two days after she died was ruled inconclusive.
A spokesperson said: "Kent Police can confirm an ongoing investigation into the supply of drugs in connection with the death of Peaches Geldof."
Geldof, a journalist, presenter and model, and a mother of two boys, was found dead at her home in Wrotham, Kent, on April 7.
She had spoken with a friend at 7.45pm on Sunday by phone and this was the last known contact anyone had with her.
She was found by her husband Thomas Cohen slumped on a bed in a spare bedroom of their home, the inquest heard.
The singer had stayed at his parent's house for the night with their elder son and he had become concerned after not being able to contact his wife.
Cohen was with his mother when he entered the house. After finding Geldof, he located their 11-month-old baby Phaedra and called to his mother to ring emergency services.
Geldof was pronounced dead at the scene. Her body was later formally identified by her father, Sir Bob Geldof.
Earlier, speculation that Geldof died from an overdose of heroin was described as "disappointing" ahead of the inquest into her death yesterday.
The Times newspaper had reported that the results of toxicology tests would reveal the drugs overdose as the cause of death.
Kent Coroner Roger Hatch adjourned the inquest until July 23, when a full hearing will take place.
Shortly before she was found dead, Geldof had posted a photograph on Twitter of herself as a child with her mother, who died aged 41 at her London home of an accidental heroin overdose in 2000.
Earlier this week, Geldof's funeral was held in the same church as her mother's, and was attended by stars including Kate Moss, Jools Holland and Nick Grimshaw.
Geldof reportedly had an overdose in 2008 and had a history of drug taking. In her final interview, she said becoming a mother had been a "really healing process".
"Before, I was not at peace with myself about it because I was just traumatised," she said. "That's why I was living a chaotic lifestyle. But now I have the kids I can heal the situation. It's so good in every single way, really."
- Independent