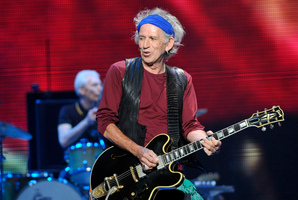 The Rolling Stones have announced plans for an Israeli concert in June, prompting a backlash from pro-Palestinian activists who say the concert would be equivalent to performing in apartheid South Africa.
To jubilation from the Israeli media, a spokeswoman for the British rock icons said the band will perform in Tel Aviv's Hayark on Park on June 4 as part of its forthcoming European tour.
But a spokeswoman for the Palestinian Boycott, Divestment and Sanctions committee noted that the Stones had been vocal opponents of racial segregation in South Africa, saying Israel also practices apartheid.
"Palestinian organisations urge the Rolling Stones to refrain from playing in apartheid Israel and not to condone Israel's violations of international law and human rights against the Palestinian people," Rafeef Ziadah wrote.
"The Rolling Stones were at the forefront of enforcing a cultural boycott of apartheid South Africa, but performing in Israel at this time is morally equivalent to performing in South Africa during the apartheid era."
After months of rumours of an impending first-ever visit by the band, which celebrated its 50th anniversary in 2012, Israeli media were jubilant.
"It's official! The Rolling Stones are coming to Tel Aviv," proclaimed Haaretz daily's website.
It said Israeli promoter Shuki Weiss, once quoted
as saying he would retire after bringing the Stones to Israel, had guaranteed the band US$6.7 million for the one-night stand.
"Israelis finally get some satisfaction as Rolling Stones confirm concert date," was the Jerusalem Post's headline.
"This is a historic and very meaningful visit," it quoted Weiss as saying.
"In these days when we hear calls for boycotts from around the world, it's not taken for granted that a band of this magnitude will come to Israel."
The Post said Weiss had been trying to tempt the band since 1988.
"The longest negotiation I ever conducted is coming to an end," it quoted him as saying.
A growing number of governments and international businesses have said they will not trade with Israeli firms with ties to Jewish settlements, highlighting the creeping success of a Palestinian-led boycott campaign.
The movement works to convince them and celebrities to cut ties with Israeli companies active in the occupied Palestinian territories, in a bid to repeat the success of the boycott that ended apartheid in South Africa.
Last week, the Stones postponed their tour of Australia and New Zealand after the suicide of Mick Jagger's partner L'Wren Scott.
A small and private funeral service was held for Scott in Los Angeles on Tuesday.
A representative for Mick Jagger said "a small private gathering of family and close friends" attended the service at Hollywood Forever Funeral Home in Los Angeles.
It included blessings and prayers led by Reverend Ed Bacon of the All Saints Church in Pasadena, and words of tribute from Jagger, Scott's brother Randy Bambrough, and others.
Poems were read by Jagger's daughter, Karis, as well as the actress Ellen Barkin, a good friend of Scott's. Jagger's daughter Jade and his grandchildren, Mazie and Zak, read psalms.
Will the Circle be Unbroken? was sung by Bernard Fowler with Dave Stewart on guitar.
-AFP/AAP