Comparison of two prime time TV3 offerings finds both trying hard to thrill, one with charm the other without.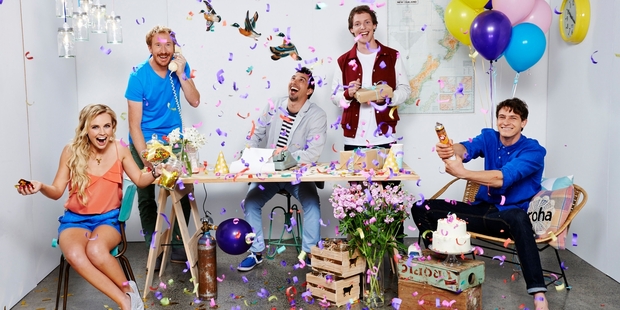 The race for television's increasingly elusive wow factor is on and getting madder and more foam-flecked by the moment. Just this last week, I caught two shows prepared to do almost anything to make people shout it out loud.
"Wow," that is, or "Oh my God" or even a heartfelt and disbelieving "No way" would do at a scratch.
Though I have to admit that the first of these two fripperies I watched had its charms. That show is an English one called Troy (TV3, Wednesday, 7.30pm) and it's the latest in a recent wave of magic shows - which is to say TV shows starring magicians.
Troy, which is named for its star, Troy von Scheibner, fulfils the need to prove the tricks aren't all in the editing by taking the trickery out into the world, among the unsuspecting public. Von Scheibner is a 24-year-old Jamaican/German hip-hop sort of a dude, with a backward hat, sculpted hair, tattoos, designer duds and loads of London barrow boy charm, who goes out and about with his hidden cameras "putting smiles on strangers' faces" with his magic.
And while I protest at the very idea of anyone performing magic on TV, Troy was so much fun I kept having to pause the show and shout for innocent family members to come watch as the star seamlessly executed the old goldfish-in-the-water-cooler trick.
The star of the show (and his hidden cameras) also seriously messed with the minds of passing strangers on park benches, at his local barbershop, a photo booth - where he tricked his way into a photo - a tattoo parlour and, most especially, at a speed dating session. I don't know how he does it or even how hidden those hidden cameras really are, but the tricks are terrific fun and Troy actually has the wow factor backwards and forwards.
It's a mere confection for sure, but it's a hard-to-resist one.
Then, on the other hand, there's Cadbury Dream Factory (TV3, Thursday, 7.30pm), a wow-chasing confection that's almost impossible to swallow.
Promising to make the dreams of ordinary Kiwis come true, presenter Brooke Howard-Smith and his over-motivated team of dream-makers last week set about helping an uncool young couple from Christchurch get to Paris so he (Michael) could propose to her (Allana) beneath the Eiffel Tower.
The Eiffel Tower visit was Allana's dream, the marriage bit Michael's. "Holy crap, it's huge," said Michael when confronted by the mighty edifice.
"I was lucky he was holding my hand," said Allana, "otherwise I would have ran."
It was a faintly heart-warming moment I suppose, but it came at the very end of such a lumpy, bumpy, silly and embarrassing show that my heart certainly needed some reward. I feared at times it might stop.
It's a sad thing that in its hungry pursuit of a youthful audience TV3 seems to feel that dumb pretty much rhymes with young - hence the need to throw good money and even good TV-making talent at such a cooked-up and artificial concoction.
The only "Oh my God" feeling I got with Cadbury's Dream Factory was "Oh my God get me out of here".