Irony of the awards is that they hail the freaks that squeezed though the cracks of the Hollywood machine.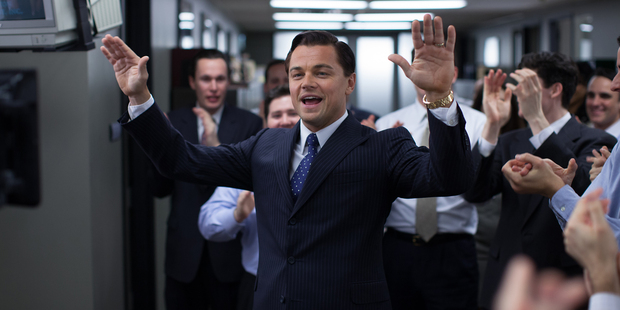 Leonardo DiCaprio says The Wolf of Wall Street is a miracle. Photo / AP
This year's Academy Awards nominees reflect a Hollywood truism: The margin between the dustbin and the Oscar red carpet is often razor thin.
The development process of any film can be lengthy, full of challenges in obtaining financing or a studio executive's approval. The biggest obstacle en route to the Oscars is, for many films, just getting a green light.
That's especially true now, when studios have cut their output and turned their focus mainly to blockbusters. It makes for an annual Oscar irony: When Hollywood gathers to celebrate itself at the Academy Awards, it fetes not its standard business, but its oddities, its rarities, its freaks that somehow managed to squeeze through the cracks.
The Wolf of Wall Street, for example, might seem like a no-brainer: Martin Scorsese, Leonardo DiCaprio, loads of sex and drugs. But even The Wolf, nominated for five Oscars including best picture, nearly didn't get made. After developing the film, Warner Bros dropped it in 2008. Scorsese would later lament having "wasted about five months of my life" waiting for the Warner Bros okay that never came.
It wasn't until years later (and after other directors were considered) that the project came together, with independent film company Red Granite Pictures financing the film's $100 million budget, and Paramount Pictures distributing.
"It's actually kind of a miracle that this movie happened, especially the fact that we were allowed to keep the tone that we wanted all the way to the end," says DiCaprio. "When was the last time you saw a film like this happen? I don't know. It doesn't fit into any specific category or box.
"It's an epic. It's a giant Hollywood epic. It's almost like a film you'd have to make 30 or 40 years ago when directors had free rein."
It has made more than US$335 million ($402.4 million) worldwide.
The case of "Dallas Buyers Club" (six nominations, including best picture) is even more remarkable. A film that's now counted among the nine best of the year by the Academy took nearly two decades to get made. Co-producer and co-screenwriter Craig Borten first sold the script in 1996 after meeting and interviewing Ron Woodroof, a Texan who fought Aids with drugs smuggled from abroad.
Woody Harrelson was to star with Dennis Hopper directing. Then the script was sold to Universal Pictures and Brad Pitt was lined up to play Woodroof, with Marc Forster directing. Ryan Gosling and director Craig Gillespie were later picks.
It was only revived with Matthew McConaughey (the best actor front-runner) and director Jean-Marc Vallee after the screenplay rights went dormant and Borten and co-producer Melisa Wallack bought them back. And still, just weeks before filming began, investors pulled out.
Made for just $5 million and shot in 25 days, Dallas Buyers Club finally got made, long after Aids faded from the spotlight. It has made $30.5 million worldwide.
Several of the Oscar nominees have relied on a single person to change their fate. When 12 Years a Slave director Steve McQueen accepted the Golden Globe award for best drama, he thanked producer Brad Pitt: "Without you, this film would have never got made."
Similar kudos have gone to the young producer Megan Ellison, whose Annapurna Pictures bankrolled two best-picture nominees: David O. Russell's American Hustle (jointly with Sony Pictures) and Spike Jonze's Her (Warner Bros).
Ellison, 28, daughter of billionaire Larry Ellison, has been roundly hailed for backing the kind of edgy, auteur-orientated films that are struggling to find financing. (In recent years, she's produced Zero Dark Thirty, The Master and True Grit).
But such deep-pocketed, director-friendly financiers are few, and the route is very narrow for the kind of pictures honoured at the Oscars. With Nebraska (nominated for six Oscars, including best picture), filmmaker Alexander Payne managed a seemingly impossible feat: getting a studio (Paramount) to produce a black-and-white film. But it took lengthy negotiations, and had to survive a series of film division closings.
The domino-effect journey of Nebraska reflects a larger shift in the industry. Particularly over the past decade, studios have moved away from smaller dramas, instead focusing on blockbuster and genre releases that can earn hundreds of millions.
In the current climate, the handful of ambitious, adult-orientated films that do get produced are almost always appraised through the prism of the awards season. These few films are then set against each other for months of Oscar wrangling.
"And they're just movies," says Payne. "They may be fragile movies, human movies. They just need to find an audience on their own without having comparative judgment made along with it."
Go to oscar.go.com for a full list of nominees.