Top actress Cate Blanchett dedicates her award to friend and actor Phillip Seymour Hoffman who died this month.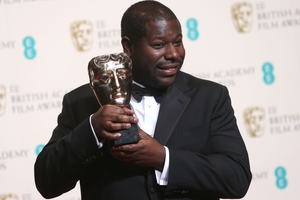 12 Years a Slave director Steve McQueen
The force of Gravity was strong at the British Academy Film Awards yesterday, but it was unflinching drama 12 Years a Slave that took the top prize.
Steve McQueen's visceral, violent story of a free black man kidnapped into servitude in the 19th-century US South was named best picture. Its star, Chiwetel Ejiofor, took the male acting trophy.
Ejiofor thanked McQueen, a visual artist who turned to film-making with Hunger and Shame, for bringing the story to the screen.
Holding the trophy, the British actor told McQueen: "This is yours. I'm going to keep it - that's the kind of guy I am - but it's yours."
McQueen reminded the ceremony's black-tie audience that, in some parts of the world, slavery is not a thing of the past.
"There are 21 million people in slavery as we sit here," he said. "I just hope 150 years from now our ambivalence will not allow another film-maker to make this film."
The Baftas, coming two weeks before Hollywood's Academy Awards, are watched as an indicator of likely Oscars success.
It was a good night for lost-in-space thriller Gravity, which won six prizes, including best director for Alfonso Cuaron.
The 3D special effects extravaganza also took the awards for sound, music, cinematography and visual effects. And despite its mixed parentage - made in Britain by a Mexican director and starring American actors - it was named best British film.
Cuaron paid tribute to star Sandra Bullock, who is alone onscreen for much of the film.
"Without her performance, everything would have been nonsense," he said.
Con-artist caper American Hustle charmed its way to three prizes, including original screenplay and supporting actress for Jennifer Lawrence. Its spectacular 70s stylings took the hair and makeup award.
The best-actress prize went to Cate Blanchett for her turn as a socialite on the slide in Blue Jasmine.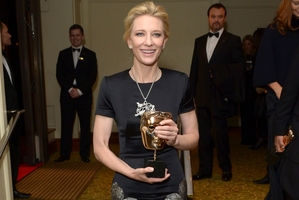 She dedicated the award to her friend and fellow actor Philip Seymour Hoffman, who died this month, calling him "a monumental presence who is now sadly an absence".
"Phil, buddy, this is for you, you bastard. I hope you're proud," Blanchett said.
The supporting actor prize went to Barkhad Abdi, who made an explosive screen debut as a Somali pirate in Captain Phillips.
The temperature in London was hardly Hollywood, but the sun shone as nominees including Wolf of Wall Street star Leonardo DiCaprio and 12 Years a Slave actress Lupita Nyong'o - striking in a green Dior gown - walked the red carpet outside London's Royal Opera House.
There was royalty of the Hollywood kind in Brad Pitt and Angelina Jolie, wearing matching tuxedos. And there was British royalty, too, in the form of Prince William, honorary president of the film academy.
Helen Mirren received the British Academy Fellowship in recognition of a career that has ranged from a hard-nosed detective in TV series Prime Suspect to Queen Elizabeth II in The Queen.
Mirren, 68, said she was "almost speechless" at receiving the honour, whose previous recipients include Charlie Chaplin, Alfred Hitchcock, Elizabeth Taylor and Judi Dench.
"It's been an amazing journey up to now," she said.
She was given the trophy by Prince William, who said he should probably call her "granny".
"I wanted to have a hanky in my bag and take it out and spit on it and clean his face," Mirren joked.
Bafta winners
•Best Film 12 Years a Slave.
•British Film Gravity.
•Director Alfonso Cuaron, Gravity.
•Actor Chiwetel Ejiofor, 12 Years a Slave.
•Actress Cate Blanchett, Blue Jasmine.
•Supporting Actor Barkhad Abdi, Captain Phillips.
•Supporting Actress Jennifer Lawrence, American Hustle.
•Academy Fellowship Helen Mirren.
-AP