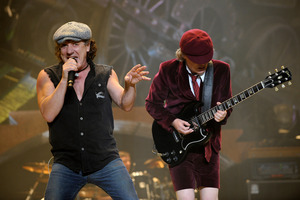 Australian rockers AC/DC will celebrate their 40th anniversary in 2014 by performing 40 shows around the world, while recording their first new album in five years.
Frontman Brian Johnson revealed on Florida's radio station 98.7 The Gater that the band are planning to enter a studio in Vancouver, Canada, in May.
Johnson told DJ Andy Preston from the station that the band had been keeping a low profile of late because one member was unwell.
"One of our boys was pretty ill, so we didn't like to say anything," Johnson said.
"But I think we'll be going into the studio in May in Vancouver."
The singer added: "It's been 40 years of the band's existence, so I think we're gonna try to do 40 gigs, 40 shows, to thank the fans for their undying loyalty.
"I mean, honestly, our fans are just the best in the world, and we appreciate every one of them."
- WENN