Matthew McConaughey's career is enjoying a 'McConaissance' with one acclaimed role after another. He talks about his reinvention to Lesley O'Toole.
Anyone who knows him, or has spent a modicum of time in his company, knows that Matthew McConaughey has a thing for the open road, the call of the wild. When he first gained serious notoriety, for the 1996 adaptation of John Grisham's legal bestseller A Time to Kill, he bought a one-way ticket to Peru where he hiked Machu Picchu and canoed the Amazon.
But mostly, he is on the road. "Most of the time on a road trip, I'm just driving. That's my favourite place to think, or not think. I don't go away to think about something but I like to put myself in a place where answers sort of show up. My favourite place for that is behind the wheel, heading somewhere," he says.
As McConaughey's unusual Screen Actors Guild Awards Best Actor acceptance speech demonstrated last month (he invoked Neptune, no one quite understood why), he is a not a conventional movie star. One might surmise, however, that a guy famously arrested for disturbing the peace in 1999 (while playing bongos naked under the influence of marijuana) would not be au fait with the notion of acting awards.
But surprisingly, McConaughey, 44, is all for the recognition - just as well, given that his winning the Best Actor Academy Award for playing the HIV-positive Aids treatment pioneer Ron Woodroof in Dallas Buyers Club seems assured (no Screen Actors Guild Award-winner has failed to also scoop the Oscar since 2003).
"I definitely believe it is completely fair to have measures of excellence in the arts. Some people say you can't judge art, but that's like saying 12-year-old Jane Doe's diary is as good as Shakespeare," he says. How is McConaughey finding it, winning and winning again? "Very nice," he beams. "If I'm in the conversation, that's cool."
Today in Los Angeles, McConaughey - in an exquisite, expensive, black leather biker jacket, and slightly orange thanks to makeup from an earlier round of TV interviews - has a nasty-looking wound across the knuckles of his right hand. He's not forthcoming about the cause, beyond a stunt, presumably on Interstellar which he is currently filming for Christopher Nolan with Jessica Chastain and Anne Hathaway. His face is still gaunt.
These days, with wife Camila Alves, 32, and children Levi, 5, Vida, 4, and Livingston, 1, in tow, McConaughey has presumably progressed from the distinctive silver Airstream trailer he towed all over the United States, and also lodged for extended periods at a Malibu trailer park. "My living space is so small that I can sit on the toilet and scramble eggs at the same time," he once joked. "How cool is that?"
A trailer park as a permanent address, even in Malibu, eventually ceased to be viable, not least because his family expanded rather rapidly. McConaughey met Alves in 2006. A Brazilian who had arrived in the US to visit her aunt at age 15 and never left, Alves had been modelling since her teens and worked as a TV presenter, and now designs a line of handbags with her mother.
With his romantic life sorted (he and Alves married in Texas in June 2012), McConaughey's professional life also soared. After an almost two-year break from cinema to attend to fatherhood, McConaughey came storming back out of the gate in 2011 with The Lincoln Lawyer.
Then came Killer Joe, Magic Mike and the much-admired Mud that continued what those in Hollywood circles called "The McConaissance".
"I just needed to let time catch up with me," he noted at the time of that first acclaim in the 1990s. Time, it could be said, has at last caught up with McConaughey who, when possible, has been holed up in the comparative sanctuary of the family's 650ha working ranch in West Texas. As if the Dallas Buyers Club buzz isn't overwhelming enough, he is also riding the wave of The Wolf of Wall Street success, given his scene-stealing role as Jordan Belfort's (Leonardo DiCaprio) chest-thumping mentor.
And he has a new hit TV series airing, True Detective, in which he plays a tortured detective opposite long-time friend Woody Harrelson. Is there anything to which he attributes this sea change?
"Part of it is just growing up and part of it is I'm very turned on and excited about all kind of things. Probably more things now than I used to be. I work hard to maintain the good things in my life that I've built - friendships, work, family, my own time.
"Sometimes you've got to go, 'Ah man, I haven't seen my brother in three months.' But it feels really great when you can think: 'Boy, all my relationships are good, people that I love are good, and my relationship with them is good. My career, I'm dialled, it feels good. Health is good.' But to maintain that, when things change, you've got to be nimble at times."
Calculated or not, this career recalibration could not have been better timed. As recently as 2009, McConaughey was starring in films with titles like The Ghosts of Girlfriends Past, and before that Fools Gold and even (ouch) Failure to Launch. But McConaughey is not haunted by bad films nor ghosts of girlfriends past (he has previously dated Sandra Bullock, Penelope Cruz and Ashley Judd, and remains friendly with them all).
"I have a few things I would like to say," he announces, teasingly. "I'm not selling but I'm angling with our minutes." And he is off. McConaughey, in that lilting Texan drawl which is somehow exactly the way you imagine it should be, could talk for hours about Ron Woodroof and Dallas Buyers Club. Unchecked, he actually would.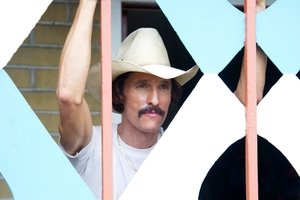 Finding the voice of Woodroof was his first challenge. "There were hours and hours of tapes and transcripts from our screenwriter Mark Borten's conversations with Ron. Watching those was really, really helpful - seeing what he says, and seeing what he doesn't say. His wit and humour were right there, then all of a sudden he'd pop into a conspiracy theory and then pop right back.
"He would be all over the place, completely convinced the whole time. He was a smuggler and a dealer. He wanted to be Scarface." But McConaughey still hadn't found Woodroof until the subject's family intervened with what he calls the secret weapon.
"His family gave me his diary, and it was the diary he kept up to before he got HIV. That gave me his monologue, this dialogue he was having with himself. Because the tapes were from after he had the Dallas Buyers Club.
"The diary was: 'I got nothing to do. I got up again this morning, six o'clock, I had my coffee. I tucked my shirt in, pressed my pants, waited for my pager to go off, to get a call, get a little job done and nobody called. So damn it - I got to get high.'
"Seeing who he was before he got HIV really informed me because here is a guy who turned 30 days of life, as he was told, into seven more years. That was the first time when he had purpose in his life, ironically because he was having to fight for his life.
"He credits an anonymous friend, who has since died, with showing him the power of that formula in action. He was going through a battle with cancer and, as the cancer started eating his body away, I saw his fight coming out more ferociously."
McConaughey's own fight is ferocious, too. If his earliest career plan was to be a criminal defence lawyer, fighting for others, his eventual plan has come full circle to fighting for himself. "I'd say I have more of a selfish desire now when it comes to work," he admits. It has been a long time coming. McConaughey, a Texan native, was to start law classes at university when he felt something wasn't right and switched to film. "I remember that call to Mom and Dad, and after about a 20-second pause they were very supportive."
McConaughey had never considered acting and, as far as he knew, there wasn't a whiff of artistic temperament in the family. "But then after my dad passed away I found all these old paintings and pottery he had done. I said: 'Mom, when was he doing this?' So there was something artistic in the blood line that I didn't know about. It was neat to find out those things."
Who: Matthew McConaughey in Dallas Buyers Club
When: Previews this weekend, opens at cinemas on Thursday
- The Independent