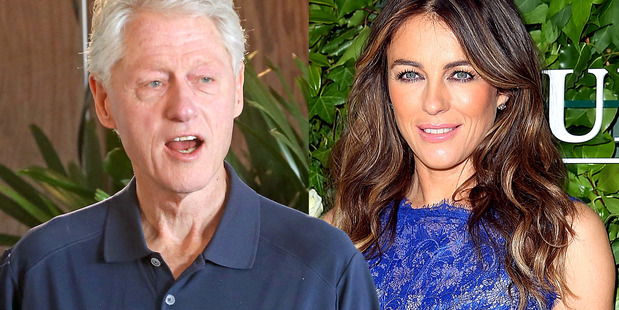 As celebrity gossip goes, it takes some beating: actor and model Elizabeth Hurley had a year-long affair with Bill Clinton while he was US President.
Throw in the suggestion that they had a liaison in the White House while Hillary Clinton was next door, and that Mr Clinton ended it when he realised he was falling in love, and you have a story that rivals Marilyn Monroe's alleged fling with John F. Kennedy.
But when something sounds too good to be true, it usually is, as Miss Hurley pointed out yesterday when she was forced to deny the "ludicrously silly" report and threatened legal action as it gathered pace online.
The allegations were made by Tom Sizemore, a Hollywood actor who claims to have dated Miss Hurley in the 1990s.
Sizemore was recorded on video boasting to friends he had arranged Miss Hurley's first rendezvous with the President in 1998 after a White House screening of Saving Private Ryan.
The actor was one of the stars of the film and claimed Mr Clinton pulled him away from the screening for a private conversation.
In the video, obtained by the gossip website Radar Online, Sizemore says Mr Clinton asked him: "Did you go with Liz Hurley for four years? Do you still see her?"
When Sizemore confirmed the couple had dated but were no longer an item, Mr Clinton is said to have asked for Miss Hurley's phone number. In the recording, Sizemore claims the then-President told him: "Give it to me. You dumb mother******, I'm the Commander-in-Chief of the United States of America. The buck stops here. Give me the damn number."
Mr Clinton then reportedly telephoned her, announcing himself with the words, "Elizabeth, this is your Commander-in-Chief.
"I'm sending a plane to pick you up in three hours. Is that enough time?"
He is said to have sent a private jet to whisk Miss Hurley from Los Angeles to Washington, where she stayed for four days.
Sizemore claimed the affair continued for a year but that "at a certain point (Mr Clinton) told her, 'I don't do love and I'm beginning to think I might love you'."
Responding on social media, Miss Hurley tweeted: "Ludicrously silly stories about me & Bill Clinton. Totally untrue. In the hands of my lawyers. Yawn."
Mr Clinton, whose affair with Monica Lewinsky, an intern, while he was in the White House almost brought down his presidency, has not responded to the reports.