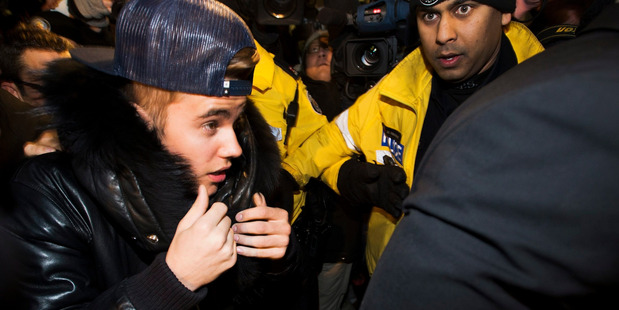 Teen idol Justin Bieber smoked marijuana and took the anti-anxiety drug Xanax before his recent arrest in Florida, police said, a day after the troubled star was charged over a separate case.
Bieber has pleaded not guilty to charges of drunk driving, resisting arrest and driving with an expired licence for drag racing in a flashy Italian sports car in Florida.
"He was driving with Xanax and marijuana in his system when he was pulled over last week by Miami Beach police," Sergeant Bobby Hernandez told AFP.
A preliminary toxicology report does not indicate how much THC - found in pot - or key Xanax ingredient alprazolam Bieber had in his system. It turned up negative for illicit drugs such as cocaine, opiates and methamphetamine.
The one-time boy wonder was tested just after his January 23 arrest, part of a string of bad behaviour from the 19-year-old singer.
He is set to be arraigned on February 14, although he does not need to be present for the proceedings.
Bieber's father Jeremy meanwhile tweeted a photo saying the pop star was home "safe and sound" after Canadian police charged him on Wednesday with the December assault of a limousine driver in Toronto.
Toronto police accused Bieber of hitting the driver "several times" over the back of the head. The car had picked him and five others up from a nightclub in the city in the early hours of December 30.
The young heartthrob is due in court on March 10.
But Toronto's mayor Rob Ford defended the troubled pop star after the charges were laid on Thursday.
"He's a young guy, 19 years old. I wish I was as successful as he was," he told a Washington radio show, urging listeners to "think back" to when they were teenagers.
Through his lawyers, Bieber told AFP he is innocent of the Toronto charges.
In a growing list of run-ins with the law, Bieber's Los Angeles home was searched earlier this month because he allegedly hurled eggs at a neighbour's house.
The singer also got in trouble with authorities for spraying graffiti in Australia and Brazil, where he was also allegedly involved with prostitutes.
A petition on the White House website calling for the Canadian-born pop star's deportation had garnered more than 204,000 signatures by Thursday afternoon local time (Friday morning AEDT).
The number of signatures easily surpasses the 100,000-threshold required for presidential consideration.
- AFP