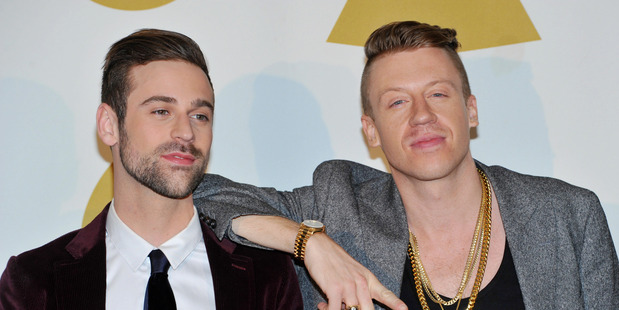 Ryan Lewis and Macklemore have dominated the rap categories at today's Grammy Awards.
Macklemore & Ryan Lewis have won a near clean-sweep of the rap categories at the Grammys.
In the earlier non-televised part of today's ceremony in Los Angeles, the duo took away Best Rap Song and Best Rap Performance (for Thrift Shop) and Best Rap Album (for The Heist).
Early on in the televised ceremony the Seattle pair won the Best New Artist prize.
In other early awards, Pharrell Williams won producer of the year (non-classical) for his work on a range of recordings, Daft Punk's Random Access Memories won Best Dance/Electronica Album and Best Engineered Album.
Rihanna's Unapologetic won Best Urban Contemporary Album while Alicia Keys' Girl on Fire took away the Best R&B Album prize.
Veterans dominated the rock and metal categories with a track from Black Sabbath's comeback album 13, entitledGod Is Dead? winning Best Metal Performance and Led Zeppelin's live reunion album Celebration Day taking out Best Rock Album.
Vampire Weekend's Modern Vampires Of The City won the band Best Alternative Music Album.
In the quieter categories, Michael Buble won his fourth best traditional pop vocal album Grammy.
Buble was one of the early winners at the Grammy Awards. Herb Alpert's Steppin' Out was named best pop instrumental album, Ziggy Marley won reggae album and Steven Colbert won spoken word album.
Cyndi Lauper announced some of the early awards during the pre-telecast ceremony, jokingly giving acceptance speeches for the artists who were not present.
The red carpet opened with a crush of people ahead of the show, as most of the nominees in the less mainstream categories vying for camera time before the big stars flooded in.
Earlier, Macklemore said he believed Kendrick Lamar deserved the best rap album Grammy, but if he and his producer take home the award, he feels it is justified.
"I think that we made a great album that pushed the genre of hip-hop," the 30-year-old said. "I think that hip-hop can be at times resistant to change and when you see two white dudes from Seattle, Washington, rapping about gay marriage, it's like, 'Hold up, this isn't hip-hop,' when in actuality it is. Hip-hop has always been about expansion, about pushing the genre, about challenging the listener."
The rap duo's gay acceptance hit, Same Love, is nominated for Song of the Year.
The year marks a high note for hip-hop since album of the year and best new artist both feature two rap acts. OutKast and Lauryn Hill are the only two rap performers to win the coveted album of the year; Hill and Arrested Development are the only rap-based stars to take home best new artist.
A rapper has never won song or record of the year.
Jay Z, keeping up the decade-long Grammy tradition of rappers leading in nominations, was the night's front-runner with nine, including nods for best rap album, rap song and rap performance. He's nominated twice for best rap/sung collaboration with Part II (On the Run) featuring Beyonce and Holy Grail with Justin Timberlake, whose comeback album earned him seven nominations, but none in the major categories.
For top album, Macklemore & Lewis and Lamar's platinum-selling debuts, The Heist and good kid, m.A.A.d city, will battle Taylor Swift's earth-shattering sales force Red, Daft Punk's electronic adventure Random Access Memories and the surprise nominee - The Blessed Unrest from the piano-playing Sara Bareilles.
Macklemore & Lewis' Same Love is up for song of the year alongside No. 1 Billboard hits, including Katy Perry's Roar, Lorde's Royals, Locked Out of Heaven by Bruno Mars and Pink's Just Give Me a Reason, featuring Nate Ruess of fun. Lorde and Mars' songs repeat in record of the year, and will be up against Imagine Dragons' Radioactive and two songs that feature Pharrell Williams - Daft Punk's Get Lucky and Robin Thicke's Blurred Lines, which has sold 6.6 million tracks and is the biggest song of 2013.
- AP