Five shows that will keep couch potatoes glued to their screens over the coming week.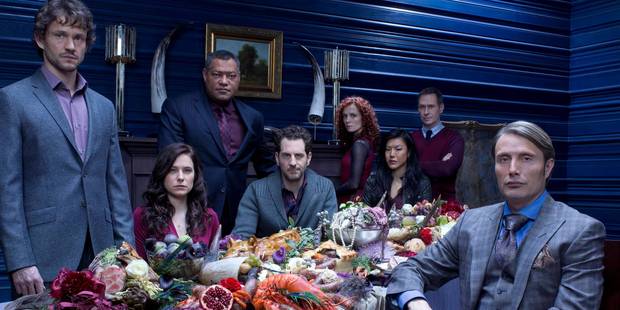 Mads Mikkelsen, right, is Hannibal Lecter in a show about the earlier part of Lecter's life.
Pick of the Week: Hannibal
It's fair to say that Mads Mikkelsen dines out on his new starring role.
He plays the title character in the grisly crime drama, Hannibal, which focuses on Dr Hannibal Lecter - scholar, connoisseur, cannibal - during an earlier, more nuanced time than was covered in the hit film The Silence of the Lambs and its sequel.
But when Mikkelsen was offered the role, he hesitated to bite.
"It's been done to perfection," he says, citing the performance of Anthony Hopkins.
"What could we add?"
Turns out, quite a lot.
Unlike Hopkins' Hannibal, Mikkelsen's version isn't "a madman in a cell.
He's out in the world, where he can make friends and help people feel comfortable".
In the show, Dr Lecter is just one member of the series' motley trio. This brilliant psychiatrist is recruited to counsel a gifted but tormented criminal profiler, Will Graham (played by Hugh Dancy), who can see into the minds of serial killers and is haunted by what he sees. Special Agent Jack Crawford (played by Laurence Fishburne) is head of the FBI's Behavioral Science Unit, and he's counting on Lecter to keep Will on course.
Together they unite (or appear to) on a mission to track down ghastly serial killers - with neither Jack nor Will dreaming that the most depraved offender is part of their team.
This knotty alliance is what captured Mikkelsen's interest.
When he first met with series creator Bryan Fuller (Pushing Daisies), he heard much talk "about this whole bro-mance thing between Hannibal and Will, and it sounded really cool," he says. "The relationship between all these characters is what's actually fundamental to the story, not the individual cases."
Be warned: There are scenes of startling grisliness. There are also scenes of gruesome humour, as when Lecter - a gourmet cook - serves elegant dinners to appreciative guests (including Will and Jack) with human body parts as key ingredients, prepared with such culinary camouflage they look mouthwatering even to the well-aware audience.
In one dining scene Hannibal tells Jack: "Next time, bring your wife. I'd love to have you both for dinner."
Viewers all too familiar with Hannibal's dietary habits may be tickled by that line. But Mikkelsen delivers it straight. "I can never wink at the audience," he says, noting that Jack and Will aren't dummies. "Will is the best profiler in the world."
So his performance must always accommodate their brilliance. "I can't be having fun with a line like this, without them seeing it."
"If you're doing it for the audience," Mikkelsen sums up, "you're killing the reality."
When: Saturday
Where: TV3
What: Guess who's coming to dinner ...
Comedy Pick: The Michael J Fox Show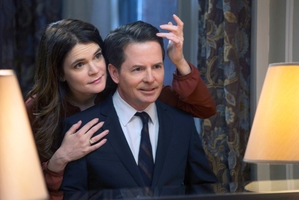 It's been over a decade since Michael J. Fox retired from acting to concentrate on his battle with Parkinson's. Now the youthful star of Family Ties, Back to the Future and Spin City returns in a more mature role in this semi-autobiographical sitcom. It's by no means reality TV, but Fox plays a role dear to his own heart in Mike Henry - a TV newscaster who bowed out of the spotlight due to Parkinson's. While his go-getting attitude was perfect in the newsroom, it's proving overbearing in the family home, so when he's offered the opportunity to return to work he gives it a go on the condition that he doesn't want his return promoted as an inspirational story of one man's battle against the odds. Breaking Bad's Betsy Brandt plays Annie, Henry's wife, and Wendell Pierce (Treme, The Wire) is his friend and ex-boss.
When: Monday, 9pm
Where: Four
What: Autobiographical family fun
News pick: The Paul Henry Show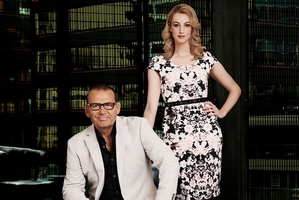 "The only expectation people should have for the show is that it'll be fun, informative and at times a bit on the edge. It's just a TV show - I'm not aiming to change people's lives" Paul Henry told the Herald in an interview earlier this week. His new show takes over the slot which used to be Nightline - TV3's late night, more entertainment-driven news show - and is his first foray back into TV in New Zealand after his controversial shift from TVNZ to MediaWorks, and stint on Breakfast in Australia. The daily show will see Henry joined in-studio each night by key current affairs figures (no word on whether these could be the same guests appearing on Campbell Live earlier in the night), and 3 News anchor Janika ter Ellen will present a final wrap of the day's big stories, plus a preview of the international news day ahead.
When: Monday, 10.30pm
Where: TV3
What: Henry's unique take on the world
Crime pick: Elementary
While Sherlock continues to be a hugely successful British update of the tales of Sherlock Holmes, this American version continues to provide an engaging alternative as it heads into its second season. With a couple of interesting gender-bending choices (Lucy Liu plays Joan Watson, while Natalie Dormer plays Jamie Moriarty), and Jonny Lee Miller playing Sherlock as a recovering drug addict sent to New York to convalesce and work with the NYPD, Elementary is unconventional. But in season two's first episode, the eccentric crime-fighting duo head to London to help track down an old mentor and investigate an unsolved mystery. This brings a reunion with estranged brother Mycroft Holmes (Rhys Ifans) and while Sherlock will never see eye to eye with Mycroft, Watson quickly warms to him, much to Sherlock's distaste.
When: Wednesday, 8.30pm
Where: Prime
What: The American alternative
Thriller pick: Hostages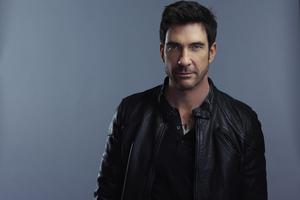 Like 24 and Homeland before it, Hostages has the US President in its sights. But unlike those conspiracy thrillers this one comes with a simple conundrum: if you were forced to chose between killing the guy in charge or seeing your family die, what would you do? That's the decision facing Toni Collette's top surgeon who is in charge of fixing the president's dicky ticker. Only, on the night before the surgery, she and her family find themselves being held at gunpoint in their homes where it is explained that either the Commander-in-Chief flatlines during the procedure or she'll be coming home to a very quiet house. It's a show of two questions: not only, will she do it, but what's got into Dylan McDermott's (pictured) heroic FBI agent that he's the guy carrying out the fiendish assassination plan?
When: Wednesday, 8.30pm
Where: TV One
What: Surgical strike on the President
- AP, TimeOut