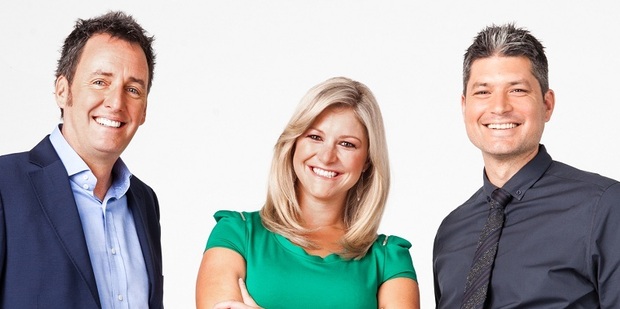 TVNZ has given current affairs fans a preview of its new-look current affairs show Seven Sharp.
It today released the first still of the show's new presenting line-up , which sees Mike Hosking and Toni Street join Jesse Mulligan in the hot seats from Monday.
The 7pm show saw co-hosts Alison Mau and Greg Boyed both depart last year.
Seven Sharp suffered a storm of criticism for its light-hearted take on current affairs, which sees human interest stories favoured over hard news.
It seems that attitude won't change, with Hosking saying he's keen to make some "fun" TV.
"I am really looking forward to making some fun TV this year with a great team."
But Street said she would be bringing "fresh ideas" to the role.
"I can't wait to start. I've always admired Mike as a broadcaster, he's a fantastic interviewer.
We've both had experience fronting the breakfast format which should lend itself nicely to the conversational nature of Seven Sharp.
"And Jesse is really clever, so I'm hoping some of his humour will rub off on me."
Also on Monday, The Paul Henry Show is due to start on TV3 as a replacement for late night news show Nightline.
- nzherald.co.nz