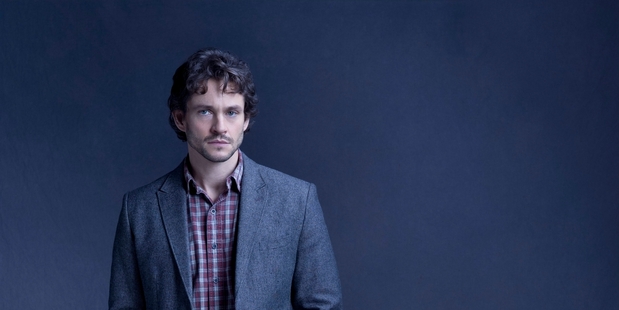 Like any follower of Homeland, Hugh Dancy was eager to avoid advance storyline information that might spoil his enjoyment of the American show.
Unlike other fans of the Homeland, however, he happens to be married to Claire Danes, who plays the drama's CIA heroine Carrie Mathison. The couple, who met while making the film Evening in 2007, have been married since 2009, and live in New York City with their baby son Cyrus.
"Like everybody else I got so hooked on the first series of Homeland," says Dancy. "So I did say to Claire 'look, stop telling me about it'. Terrible policy for a marriage 'Please don't tell me what you did today' is not a good line so we gave up on that. Now I read the scripts as they come out."
Now Dancy has a regular supply of reading for his own television series. He's starring in Hannibal, the television spin-off featuring everybody's favourite serial killer, Dr Hannibal Lecter - here played by Danish actor Mads Mikkelsen.
Based on Thomas Harris's source novels, specifically Red Dragon (the only one to feature Dancy's character, FBI agent profiler Will Graham), the drama series is the brainchild of Bryan Fuller, who created Heroes. Hannibal is a prequel to all those Lecter movies starring Anthony Hopkins (and Michael Mann's 1986 adaptation, Manhunter, featuring Brian Cox), and here Lecter is still at liberty, a well-respected psychiatrist whose crimes have yet to be uncovered. Indeed, at this stage, there is a mutual admiration between Graham and Lecter.
Fuller describes it as "a kind of love story". "There is a cheery disposition to our Hannibal," he says. "He's not being telegraphed as a villain. If the audience didn't know who he was, they wouldn't see him coming. What we have is Alfred Hitchcock's principle of suspense show the audience the bomb under the table and let them sweat when it's going to boom."
Hannibal is an unusual series on several counts, not just because each episode has a gastronomic title, such as Amuse-Bouche, Entre and Buffet Froid, or that the production employed Spanish chef Jose Andres, who trained under Ferran Adria at El Bulli, as "culinary cannibal consultant", advising the crew on the proper procedure for preparing human organs for consumption.
As that visceral job title suggests, this is a dark, dark show ("Elementary meets Dexter" is how one critic put it) and one's first suspicion, since it's being made by an American network, NBC, rather than a more permissive cable channel, would be that the whole grisly serial-killer element would be watered down. Not so, and there's one scene involving victims and mushrooms that might put you off eating fungi for life.
"Better minds than my own have explained how unlikely it was that they [NBC] would leave us alone as much as they did," says Dancy. "That wasn't my anxiety. I never worry about the specifics of American network TV versus cable, but, yeah, it was amazing that it sustains the darkness of its premise."
Add to the mix Gillian Anderson in her first American TV series since The X-Files (with the interesting task of being Lecter's psychiatrist) and a guest turn by Eddie Izzard as a cellmate of Lecter's, the so-called Chesapeake Ripper, and it's clear Hannibal isn't the usual formulaic network fare. The series has aired in America to widespread critical approval. "I do my best not to read reviews, although, that said, it all filters through," says Dancy. "The four friends I watched it with liked it very much. But they're my friends."
Raised with a younger brother and sister in Newcastle-under-Lyme by his father, Jonathan, a moral philosopher, and mother Sarah, who works in academic publishing, Dancy, 37, acquired a taste for acting first at school at and Oxford, where he studied English. Given his background, obvious intelligence and great hair, there were frequent early allusions to Dancy being "the new Hugh Grant", an epithet he has managed to rise above. "Listen, there are worse things to be told," he says. "I've found regardless of what you're doing or where you are, you'll be compared to somebody."
Maybe so, but his is already shaping up to be an unusual career. Dancy's early television work majored in costume drama - he took the title roles in a 2000 TV movie of David Copperfield, in the 2002 BBC adaptation of George Eliot's Daniel Deronda, and gave an Emmy-nominated performance opposite Helen Mirren, playing the Earl of Essex in Channel 4's Elizabeth I (2005). Since then however it has moved in a less predictable direction. Despite some wrong turns (the feeble 2009 romcom Confessions of a Shopaholic, for example, or the ill-advised 2006 sequel, Basic Instinct 2), Dancy has made a mark in a diverse range of independent movies.
He played a man with Asperger syndrome in the award-winning Adam, the Victorian inventor of the vibrator in the uneasily pitched period drama Hysteria and (perhaps his most sophisticated performance to date) as cult escapee Elizabeth Olsen's impatient yuppie brother-in-law in Martha Marcy May Marlene. And on stage, he has won glowing reviews in the acclaimed Broadway production of the David Ives' kinky two-hander Venus in Fur.
"I guess I've pursued my own interests and tried to be broad-minded," says Dancy, who has in the past stated that he wasn't interested in a conventional Hollywood A-list career. "Yes, I think that's a dangerous statement to make", he says now, somewhat ruefully. "I guess what I meant by that - because obviously you do want to play the lead roles - is that I'm also drawn to things that wouldn't fit that description."
A sure-fire box-office draw would be to appear opposite his wife, something the couple have assiduously avoided since becoming an item. "It's not a positive rule but I'm pretty picky and so is Claire and we have fairly stringent rules about what we do," he says. "That would be doubly so (if we acted together) because if we did it, we would get attention for that reason. All the more reason to avoid screwing up basically."
Not that there's going to be much time for acting together. Hannibal shoots for six months of the year in Toronto, while Homeland films for the other half of the year in North Carolina. How does Dancy feel about the possibility of potentially tying up his career for the next seven years?
"It was a big deal for me to sit down with Bryan, having read the first episode, and ask him 'Why would I sign my life away to you?' He's one of life's great enthusiasts and he launched into a description of this whole series. And then he gave me the next series, then the third and fourth he described about five years of television and he clearly had a vision, which is not always the case."
And that still leaves the other six months. Dancy says he'd like to devote time to baby Cyrus, and do theatre in London. His accent remains public-school, with no hint of transatlantic. How is his American accent? "It doesn't wobble back out into English any more. Although when I did Venus in Fur and Mike Nichols (Broadway and movie director of The Graduate) came to see it, he only came backstage to correct my pronunciation of the word 'issue'. But when it's Mike Nichols you take the note."
Who: Hugh Dancy
What: Hannibal, the television prequel of the early days of Hannibal Lecter
When and where: Starts Saturday 25, 9.30pm TV3
- Independent