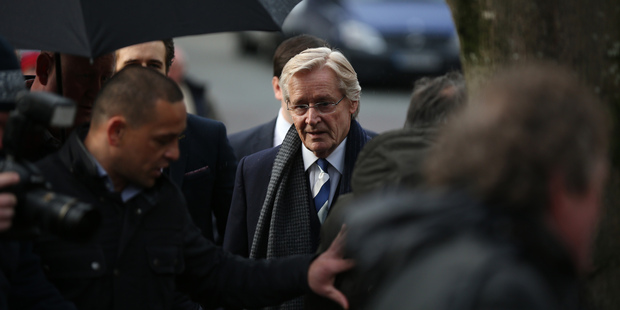 Coronation Street star Bill Roache sent a letter and signed photograph to a 14-year-old girl who believed they were in a "clandestine relationship" after he indecently assaulted her, a court heard today.
The alleged victim said today that Roache had first forced her to perform a sex act on him in a toilet after a children's talent show at Manchester's Granada Studios in 1965, where the ITV soap was filmed.
The 81-year-old actor then wrote to her and asked her to reply "when you start school again", the jury was told.
Roache later gave her a tour of the Coronation Street set, including the Rover's Return, and then took her for a drive where he asked when she would turn 16, before assaulting her again, the court heard.
The woman, who cannot be named, told Preston Crown Court she had believed they were secret lovers so had not told anyone at the time, but Roache's QC said it was because she "made it up".
The woman, now 63, said she first met Roache - who has played Ken Barlow in the ITV soap since its first episode in 1960 - in a dressing room before he later pulled her into the nearby toilets.
Roache, who has not appeared on Coronation Street since he was charged last year, denies five counts of indecent assault and two of rape involving five girls then aged 16 and under.
The first alleged victim told the jury this morning that weeks after the first assault she received a letter and signed photograph from the actor, which prosecutors claim was used to secure her silence.
It read: "Dear (the alleged victim), thank you for your marvellous letter and the nice things you said in it.
"I am enclosing a photo which I hope you like.
"I am away for three weeks now but I would like a letter from you waiting for me when I get back.
"Write to me when you start school again and tell me more.
"Love Bill xx."
The photo was signed "Love to (the alleged victim)! William Roache (Ken Barlow)."
Prosecutor Anne Whyte asked her: "How did that make you feel?"
The woman replied: "I suppose I was flattered at the attention. I didn't understand some of it".
She said the first incident happened when she and her friend "went exploring" Granada Studios.
She said they saw the actor who played Albert Tatlock in the soap along a corridor, and then encountered Roache and Coronation Street colleague Alan Rothwell, who played David Barlow, in their dressing room.
"How do you think you appeared?" asked Miss Whyte.
The woman said: "Like two excited teenagers ... just excited to be in the company of a couple of famous actors. Flattered, I suppose, that they were actually talking to us and interested in what we were doing."
At one point she and Roache left the dressing room, she said, and he pulled her "roughly" by the arm in the direction of a men's toilet.
"I was taken aback. I wasn't quite sure why I was in there. I should not have been in there.'
She said the next thing she remembered was him placing his hand over his genitals and said she did not appreciate what was happening.
"I was the one in the wrong place. What was wrong was me. I was shocked and I didn't really understand what was going on, but the one thing I thoroughly understood was that I should not have been in the gents," she added.
She said her "paramount feeling was to get out of there" and added that Roache kissed her on the lips.
They returned to the dressing room but she did not tell her friend about the incident because she was "frightened", she said.
She told the court both the actors were then called away but Roache asked her to let him know how he could get in touch with her.
"I left my address on the dressing room table," she said.
She said that after receiving the letter she returned to the studios later in the year, telling the court that Roache told her to wait outside and he would pick her up in his car.
He later parked near a railway embankment in Stockport and she remembered Roache asking about her age and when she would turn 16, she said.
She then claimed he asked about her sexual experiences and then believed there was another indecent assault.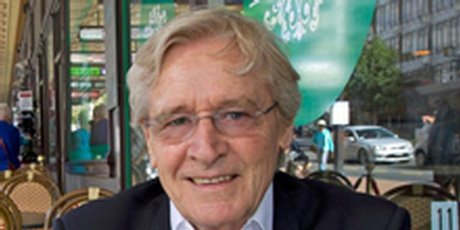 Louise Blackwell QC, defending Roache, then cross-examined the witness, who was alleged to have been indecently assaulted twice by the defendant.
She agreed she was 'up for being naughty' to the extent of "exploring" the studios after her audition with a friend did not go well as they "didn't even get to the end of the song".
But questioned by Miss Blackwell, the witness said she could not remember many details about the corridors they wandered in or how she allegedly got to be alone in the gents toilets with Roache or any detail of a conversation they may have had.
"I think it's because it's 50 years ago and a lot of things are unclear about that day, but some things are clear," she told the jury.
And the barrister questioned why she had not told her friend afterwards.
"You would have been chattering, giggling schoolgirls, best of friends, and you said nothing, is that right?"
"I don't think I did tell her," the witness replied.
The witness was then questioned about the second alleged indecent assault.
She had been invited to Granada by Roache, but could not remember how the arrangement was made, and taken on to the set of the Rovers Return on Coronation Street.
Roache is then said to have asked her leave the studios and arranged to pick her up in his car on the street outside.
Miss Blackwell suggested this arrangement was "odd".
"No," the witness said. "Because at that stage I thought we were having some sort of clandestine relationship, however tenuous."
The witness said she could not remember any additional details about Roache's car or the journey in it that day.
Miss Blackwell said: "Would you agree, you have some very alarming lapses in your memory about these events?"
"No, I don't agree," the witness replied. "I think it would be strange if I remembered every detail of 50 years ago. I remember the unusual things that stand out in my mind, the unique things."
Miss Blackwell continued: "The other alternative is, it's just not true?"
"It is true, I'm telling the truth," the witness said.
Miss Blackwell added: "The lapses of memory are because you are making it up?"
The witness answered: "I'm not making it up. I would have no reason to."
Roache trial: The charge sheet
Two counts of indecent assault against a girl aged 14 in 1965
One count of indecently assaulting a 16-year-old girl in 1965
Two counts of raping a 15-year-old girl who lived near Roache's home in Lancashire in 1967
One count of indecently assaulting a girl from the age of 14 between 1968 and 1970
One count of indecently assaulting her sister, under 16, between 1968 and 1971
- Daily Mail