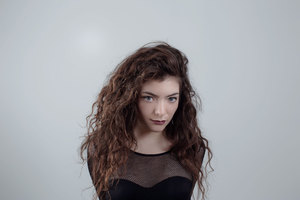 Lorde is up against Katy Perry, Lady Gaga and Pink at the Brits - but not Miley Cyrus.
Lorde can add another major international music award nod to her Grammy nominations - she's up for a Brit in the International Female Solo Artist category at next month's ceremony in the UK.
Her competition for the award at the February 19 show in London is Katy Perry, Pink, Lady Gaga and Janelle Monae.
A notable snub in the category is the high profile Miley Cyrus. Likewise, Blurred Lines singer Robin Thicke isn't among the International Male Solo Artist category which includes Bruno Mars, Justin Timberlake and Eminem.
Breakthrough acts dominate much of the rest of the domestic Brit categories with artists including Disclosure, Laura Mvula and Bastille in competition at the expense of veteran stars such as Robbie Williams.
Although David Bowie, 67, receives two nominations following his surprise return with a new album last year, several of 2013s biggest-selling artists, including Williams, Gary Barlow, Rod Stewart and Sir Paul McCartney have failed to make the nominations list.
Disclosure, the electronic music duo formed by brother Guy and Howard Lawrence who have enjoyed a series of club hits, and played in Auckland last year, head the list with four nominations alongside Bastille, the pop/rock quartet whose single Pompeii became an international hit.
Rudimental, the dance quartet who topped the singles and album charts last year and are bringing their exuberant live show to Auckland's Vector Arena in March, receive three nominations.
John Newman, the Yorkshire soul singer who collaborated with Rudimental and scored a number one with his single Love Me Again, edges out the 17-Brit winning Robbie Williams from the British Male category.
Laura Mvula, the classically-trained singer from Birmingham who combines soul and jazz and Tom Odell, winner of last years Brits Critics Choice awards are both nominated.
A change in the Brits voting academy, giving a greater voice to artists, is credited with the shift away from established names who once dominated the UK music industry's annual showcase. Aside from Bowie, the other British Male nominees are aged 25 or below.
Arctic Monkeys are favourites to repeat their feat of 2007 and 2008 by winning the Best British Group and Album categories. Their acclaimed AM album and headline Glastonbury appearance prompted the Brits organisers to invite the Sheffield band to open this years show.
One Direction will battle the Arctics for Best Group after another successful year for the boyband. Although excluded from Best Album, Harry Styles's group are favourites to take the Global Success award, given to the UK act which has achieved the most international sales.
Bowie's Best Male nomination arrives 30 years after he last won the award. The Next Day, released last March following the surprise appearance of an iTunes single, is Bowie's first Best Album nomination.
John Grant, the American musician whose confessional electro-indie songs address his HIV-positive diagnosis with dark humour, wins a Best International Male nominee. The international categories also include Daft Punk, Kings of Leon, Arcade Fire and Macklemore and Ryan Lewis.
But the Brits voters have snubbed Thicke and Cyrus, who achieved notoriety with the help of sexually-explicit videos. A new British Video category has been added, reflecting the dominance of YouTube and Vevo as the preferred platform for music consumption, during a year which again saw conventional album sales slide.
Viewers will vote for the award, live on the night, from a shortlist of 5 videos based on YouTube views.
James Corden will return for what the comic actor says will be his final appearance hosting the awards, held at the O2 Arena and screened live on British television on February 19.
The 1,000-strong Brits voting academy snubbed several of the UK's 2013 10 best-selling albums. Williams's Swings Both Ways, the 4th best-seller, Rod Stewarts Time (7) and Gary Barlows Since I Saw You Last (9) all missed out.