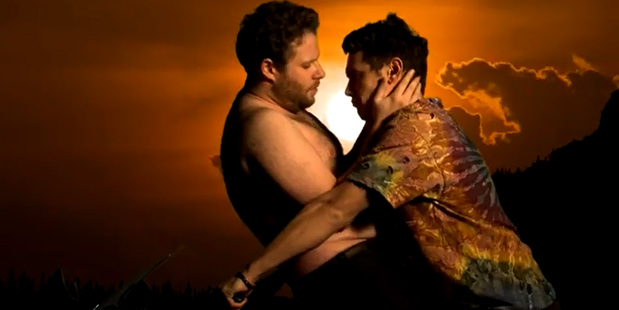 Kim Kardashian says Seth Rogen nailed the parody of her in Kanye West's new music video.
The comedian plays pouty Kardashian in a spoof of West's clip, Bound 2, released last week.
Kardashian, who is engaged to the rapper, is pictured straddling him as they cruise through the night on a motorcycle, wind blowing through her hair as they bounce to the beat across the desert.
After Rogen tweeted a link to his version, co-starring James Franco as West, Kardashian offered her seal of approval.
"You nailed it!!! Sooo funny! RT @Sethrogen: #Bound3.Enjoy!!!!!!" she wrote, sharing the link with her 18 million Twitter followers.
Rogen responded shortly thereafter, after admitting the parody, which included a shirtless make-out session with Franco, took "more effort than I'd like to admit".
The actor gave Kardashian credit for working the camera so seductively in some back-breaking positions.
"@KimKardashian thanks! Some of those positions were really uncomfortable. That s*** is harder than it looks," he said.
While West didn't chime in, Franco also tweeted his followers and shared stills from their shoot on Instagram.
"#bound3 #sethrogen #love - A LITTLE VIDEO SeTH AND I mADE IN OUR DOWN.'' he wrote, adding, "I LOvE SETh".
Six days after its release, Bound 2 has already clocked in nearly 6.5 million views.
Rogen and Franco's parody looks to be nipping at its heels, however, earning more than 1.3 million hits in less than 24 hours.
- Cover Media