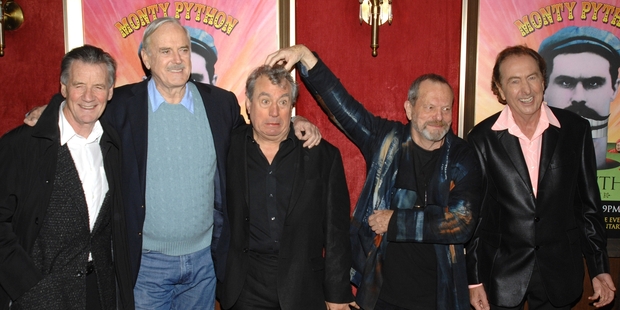 It's the reunion which John Cleese once dismissed as absolutely impossible. But hatchets had been buried and grudges set aside as the surviving members of the ground-breaking comedy troupe confirmed that the Monty Python circus would fly again.
Following months of secret talks, John Cleese, Terry Gilliam, Eric Idle, Terry Jones and Michael Palin will announce their plans at a London press conference. The reunion, expected to involve a stage show and a television special, is the first time the remaining members have worked together on a full-length project since The Meaning Of Life film in 1983.
The death of Graham Chapman in 1989 was previously thought to have ended any hopes that their hugely influential brand of absurdist humour, which revolutionised comedy following the 1969 television debut of Monty Python's Flying Circus, could be recreated.
Previous attempts to engineer a reunion tour, usually driven by Idle, 70, creator of the 100 million-grossing Spamalot musical, have fallen foul of squabbles over business issues.
Cleese, 74, said even sitting the Pythons down in one room was a geographical impossibility. But the parrot was not dead, just resting for 30 years, it transpires.
Jones, 71, told the BBC: "We're getting together and putting on a show, it's real. I'm quite excited about it. I hope it makes us a lot of money. I hope to be able to pay off my mortgage!" Idle tweeted: "Python meeting this morning. Can't wait."
A world tour, re-enacting Python hits such as the famous Dead Parrot sketch, would prove hugely lucrative. The film and television legacy left by the Beatles of comedy retains huge popularity.
The Pythons hinted that they could revisit previously unreleased sketches. Palin, 70, said: "There was much more material written for The Meaning of Life and not used; probably as much as three times as much as we put in."
Cleese added: "Maybe we should do a Meaning of Life 2?"
Palin and Jones have recently filmed lost material from their 1969 ITV sketch show The Complete And Utter History Of Britain, which helped form the Flying Circus template, for DVD next year.
Fans will hope that the long-awaited reunion was prompted by a desire to create fresh mirth worthy of their legacy, rather than financial motivations. Earlier this year, the surviving members were ordered to pay extra royalties to Mark Forstater, a producer of the 1975 film Monty Python and The Holy Grail, who won a High Court case over Spamalot profits. This year, Cleese sold off his art collection and completed a live Alimony Tour to help pay for his divorce from his third wife, Alyce Faye Eichelberger.
The first episode of Monty Python's Flying Circus was broadcast on October 5, 1969. It ran for four series and spawned spin-off records, books and even German-language specials. Featuring open-ended sketches, which dispensed with traditional punchlines, its 45 episodes of surreal humour influenced many.
Monty Python's Life Of Brian, released in 1979, telling the story of a man mistaken for Jesus, was attacked by Christian groups and banned in some areas, but has since been named the greatest comedy film in history.
- Independent