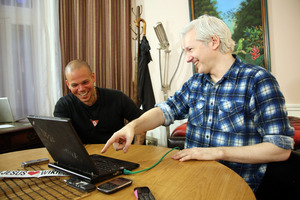 Director Alex Gibney has finally fired back at Australian whistleblower Julian Assange's criticism of his documentary We Steal Secrets: The Story of WikiLeaks.
Since its release in May, the documentary has been attacked by Assange and his supporters, who claimed the film was filled with factual errors and speculation.
Gibney had ignored the criticism until now.
The US director told The Hollywood Reporter that he took "great care" not to distort the truth.
"People are finally seeing the darker side of Julian Assange, the fact that he doesn't tell the truth, that he lies," Gibney told the industry magazine.
"He (Assange) likes to suggest to people that he has this enormous power that he doesn't really have."
We Steal Secrets is an independent documentary film about WikiLeaks, the controversial website founded by Assange, and the people involved in the collection and distribution of secret information.
Assange has remained holed up at the Ecuadorian embassy in London since June 2012. He is fighting his extradition to Sweden over allegations of sexual assault brought separately by two women.
- AAP