Jennifer Lawrence is back in action as Katniss Everdeen in the second Hunger Games movie. She talks to Michele Manelis.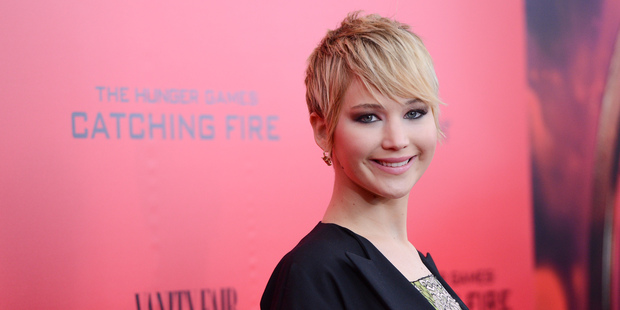 The morning after Jennifer Lawrence famously tripped over her Dior gown when accepting this year's Oscar for Best Actress, it was business as usual for the 23-year-old.
With no time to bask in the glory of the evening's success, she hopped on a plane to the Hawaiian set of Catching Fire, the second instalment of the Hunger Games trilogy, to resume her day job as the kick-ass teenage warrior Katniss.
"Yes, I left Hollywood and returned to death, war and destruction," she says. "When I got back to the set there were new rules. No one was allowed to make eye contact with me and they were to refer to me as 'Ms Lawrence'," she jokes about her supposed post-Oscars elevation in status. "No, everybody kind of made fun of me, actually. If anything, it just makes you more of a target."
Though she is unmistakably charming, Lawrence is definitely a little more guarded, a little less effusive than she was a year ago.
"Well, I'm embarrassed to say this but last year when I was doing interviews I was a bit all over the place and said things that maybe I shouldn't have.
"Everybody liked it at first but I know how fickle people are and I'm afraid I'm going to start becoming annoying. I would probably annoy me, and so I get it. So, I've been trying to make a conscious effort while doing press for Catching Fire to be more calm, mature and cool so nobody gets sick of me, but it seems that I can't."
She grew up with her two older brothers in Louisville, where her parents run a children's camp and her duties were to help as an assistant nurse.
A precocious child, she had decided on an acting career by 14, and her parents helped find a talent agent. Television appearances followed on such shows as Cold Case, Medium, and Monk. Then came a few small roles on the big screen, and in 2008, at 18, she won the Marcello Mastroianni award at the Venice Film Festival for her role in The Burning Plain, in which she starred opposite Charlize Theron and Kim Basinger.
Life changed course when she starred in the independent hit Winter's Bone in 2010, and came away with an Academy Award nomination, among other accolades. It was a taste of what was to come three years later during her award-winning season for Silver Linings Playbook.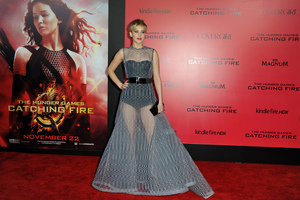 "My career has definitely benefited from the Academy Award and I am so grateful for it, but I am pleased to say that nothing in my personal life has changed at all. I mean, I don't go to Beverly Hills and not expect to create a stampede. Certain things changed, but I wouldn't say my day-to-day life has changed."
But being a role model must make somewhat of an impact?
"Well, becoming a role model isn't something you choose, it's something you inherit and it happens without your consent. So yes, I have to be aware of it and be careful about the example I'm setting to young girls. I remember being that age and how much I would pay attention to what people in the spotlight would say, what they'd wear, how they'd carry themselves. I don't want to do anything to upset anyone. Or if I am doing something, I try to make sure no one's parent finds out about it. It's definitely a responsibility that I try to adhere by."
But it seems her mild offscreen behaviour in which she eschews the nightclub life in favour of sitting on her couch watching reality television won't lend itself to any headline-grabbing. "No, I've never found going out to nightclubs or any of the Hollywood parties very enticing," she says. "I'm happy at home."
But she has made headlines of a different sort. Her new pixie-style haircut has been a major topic all over the world. "I didn't read any of that stuff," she sighs. "Just hearing about people making a big deal about it is just so stupid. You know, I just had a haircut. I didn't mean to make a national statement with it."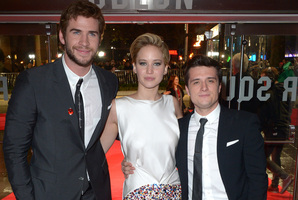 In her romantic life, she has been in an on-again-off-again relationship with British actor and fellow X-Men star Nicholas Hoult, for the past couple of years, although she remains tight-lipped on this subject. "I'd rather not discuss that. I'm not a relationship leader, just a straight-up actor."
The young blonde is fortunate indeed. The Hunger Games generated US$691 million ($831 million) worldwide and the sequel is expected to eclipse its predecessor's box-office (the third and fourth movies, Mockingjay Part 1 and Part 2 are scheduled for release in November 2014 and 2015.
The first film was directed by Gary Ross (Seabiscuit, Pleasantville) but because of scheduling conflicts he didn't return for Catching Fire. Instead, Francis Lawrence (I Am Legend) helmed the sequel. The original budget of US$78 million was upped to US$130 million. The budget ballooned because of additional special effects, Imax cameras and Lawrence's payday, now a hefty US$10 million, an impressive hike from US$500,000 (plus box-office bonuses) she received for the first movie.
The movies are adapted from the best-selling novels by Suzanne Collins that address socio-political issues and contain a strong anti-war message for young adults.
Philip Seymour Hoffman joins the cast as head gamemaker Plutarch Heavensbee, while the returning cast includes Josh Hutcherson, Liam Hemsworth, Stanley Tucci, Woody Harrelson, Lenny Kravitz, Donald Sutherland and Elizabeth Banks.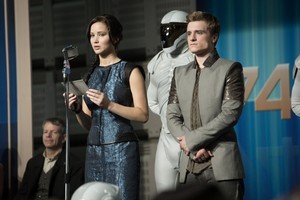 Despite Lawrence's realistic portrayal of Katniss Everdeen, a revolutionary and fearless leader, she confesses she is more worrier than she is warrior.
"I would never call myself a rebel because I have too much anxiety. I mean, I rebel against rude people; I can't stand that, or bad drivers. But I worry too much about getting into trouble to be a revolutionary. I'm also scared of everything: elevators, snakes, ghosts.
"Shooting in Hawaii, I was constantly scared of something, whether it be spiders or other insects."
She will next star in American Hustle, in which she reteams with Silver Linings Playbook director David O. Russell and co-star Bradley Cooper, as well as Christian Bale and Amy Adams. "I was really excited to work with David again. I think he's some kind of 'actor whisperer'. And it's set in the 70s, not really the height of fashion, so it led to some funny moments."
But for now, she is entrenched in the world of The Hunger Games and there is talk that a possible theme park is in the works.
Perhaps this a business venture Lawrence would like to be involved in? She smiles. "Perhaps, I'd like to be involved in the royalties."
Who: Jennifer Lawrence
What: The Hunger Games: Catching Fire
When: Opens in cinemas today
Follow @nzherald_ent on Twitter for all the latest entertainment news.
- TimeOut