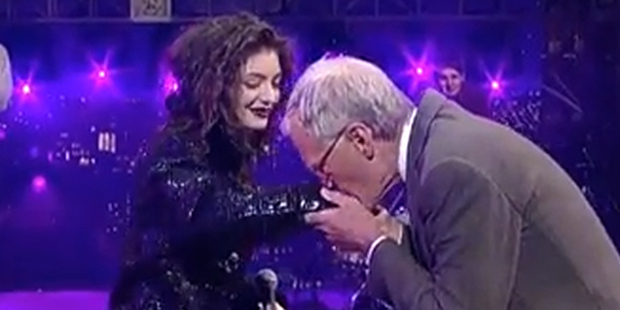 Kiwi pop star Lorde has performed the show of her life for late night chat show host David Letterman - and Letterman seemed to like her.
"Our next guest is an acclaimed young singer-songwriter from the wonderful country of New Zealand," is how The Late Show With David Letterman host introduced the North Shore singer.
After Lorde's performance of Team, Letterman kissed her hand and said, "What a pleasure to have you here ... come back often".
Lorde, whose hit single Royals is spending its seventh week at No. 1 in the US Billboard charts, also performed a full set of songs at the Ed Sullivan Theatre in New York before appearing on Letterman. It was streamed online.
Fans chose the last song that Lorde played thanks to a poll on CBS.com.
Letterman hosts one of the biggest late night shows in America, averaging between 3.8-4.3 million viewers a night.
Lorde is the second Kiwi to perform on Letterman in two weeks, after comedian Rhys Darby's performance last week.
Other stars to perform full streamed concerts for Letterman include Coldplay, Alicia Keys, The Killers, Depeche Mode, John Legend and Mumford & Sons.
Watch Lorde's performance below:
- nzherald.co.nz