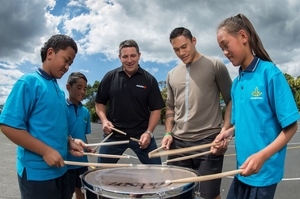 Josiah Sao is building confidence by drumming - beating rhythms on everything from drum skins to his dinner plate and his pillow.
"I like it because Leni's our teacher," the 10-year-old says of his drummer tutor Leni Sulusi. "He's kind and he's loving and he tells us to have confidence in ourselves."
The Hay Park School pupil is part of a 500-strong musical group that has drummed up corporate support to attend the New Zealand Festival next year.
The festival is the seventh recipient of a Jetstar Flying Start Programme grant, receiving $15,000 cash and $15,000 in travel. The money is to help pay for flights to Wellington and ground costs for the 200 drummers and 300 singers from Auckland and Christchurch. Their performance, titled The Big Bang, will open the bi-annual three-week festival on February 21.
Sulusi said he enjoyed working with students and teaching skills. "You start to see the confidence grow in them. Some of these students have never been on a plane and thanks to the Jetstar Flying Start Grant they will have this opportunity."
Jetstar New Zealand head Grant Kerr said the creativity and commitment behind The Big Bang project captivated the judging panel.
"Each child involved in The Big Bang project will be making their family, school and community very proud."
Meanwhile, Josiah is mostly looking forward to Wellington as his chance to "drum in a real concert".
The Jetstar Flying Start Programme has awarded $210,000 in travel and cash to seven New Zealand not-for-profit organisations since early last year. Applications for the next grant close at 5pm, December 31. For details and conditions go to www.jetstar.com