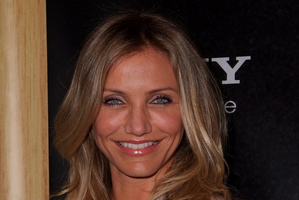 Cameron Diaz posted her first tweet on the social networking site and attracted 67,000 followers in just three hours.
Using the Twitter handle @CameronDiaz, the 41-year-old actress poked fun at her late arrival to the social networking site in her first post, writing: "I JUST got a super cool new app called Twitter. Twelloooo!!! (sic)"
I JUST got a super cool new app called Twitter. Twelloooo!!!

— Cameron (@CameronDiaz) November 8, 2013
The actress' profile includes a brief bio that reads: "Liver and lover of life; professional laugher, eater, make-believer."
She also opted to use a quirky avatar picture, in which she appears wide-eyed and has her mouth open.
The blonde beauty, who is currently filing the new adaptation of Annie in New York City, in which she both sings and dances, is already following 49 people, including her close pals Leonardo DiCaprio, Drew Barrymore, Christina Aguilera, Gwyneth Paltrow, Lake Bell, Jessica Alba, Reese Witherspoon and Jason Segel.
Cameron, who previously dated Justin Timberlake, isn't expected to reveal too much about her daily life on the micro-blogging site, as she is very aware of what she says about herself in public.
She previously said: "I'm very aware of my words and who I say them to. I'm aware that what I said gets overheard, and people can take it and twist it, and I have no control over that."
- BANG! Showbiz