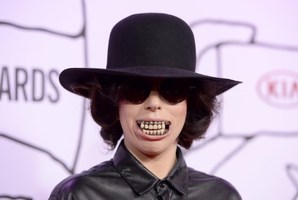 Lady Gaga feels "empty" and "depressed" after finishing her new album ARTPOP.
The Applause hitmaker has hit a low point since releasing her third studio album as she is
no longer being creative.
She told O2: "I'm depressed after making this album. I feel empty and sad. I'm no longer the creator, I'm the performer.
"This is the reverse of Warhol, this is the reverse of the soup can, this is art imprinted onto pop culture."
This comes only weeks after Gaga claimed she doesn't "feel alive" when she is not on stage as her stage persona gives her the chance to express her thoughts.
"When I'm not on the stage, I don't feel alive. But when I hit the stage, it's like everything that I'm thinking and feeling, where I belong - that's where it is," she said.
But the 27-year-old eccentric star doesn't think she is different from anyone else, because most people have creative energy they want to release.
Gaga explained: "I don't think I am different from anybody else. I think everyone with their location and their job and what they do, their passion, feel the same way I do. It's sort of like we are endlessly obsessing about what we are creating and then the explosion is the moment where we get to share."
- BANG! Showbiz