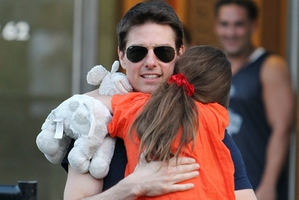 Tom Cruise has said he is still "extremely close" to his daughter Suri after his divorce from her mother, Katie Holmes, as he filed court documents in support of a lawsuit against two American magazines.
The film star, whose marriage to Holmes ended last year, filed a two-page submission outlining his relationship with 7-year-old Suri as part of a US$50 million ($59.8 million) defamation suit.
Cruise, 51, is suing the Bauer publishing group over allegations in Life & Style and In Touch that he had "abandoned" his daughter after the divorce.
The Top Gun star said the claims were "patently false".
"I have in no way cut Suri out of my life - whether physically, emotionally, financially or otherwise," he said in the documents.
The articles, published last year, had cited Cruise's absence from his daughter's life because of overseas film commitments. Cruise said he did film two projects in Britain and Iceland in the second half of last year.
The "changed circumstances" after the divorce meant they did not see each other as often as before.
After the break-up, his daughter lived with Holmes, 34, in New York, where she was enrolled in school, Cruise wrote.
But he spoke to her "nearly every day" by phone when he was abroad and saw her in July, August and November.
Bauer's lawyers say a judge should reject Cruise's motion, and say the magazines had statements from confidential sources.