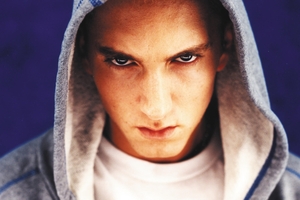 Eminem has defended his use of gay slurs in his new album track Rap God, insisting both his fans and critics know what his stance is on homosexuals.
The US hip-hop star has come under fire again for his choice of language in the song, but he's refusing to apologise for his rhymes, insisting his friendship with Sir Elton John and his gay marriage endorsement should speak for him.
In an interview with RollingStone.com, he says: "I don't know how to say this without saying it how I've said it a million times. But that word (faggot), those kind of words, when I came up battle-rappin' or whatever, I never really equated those words ... It was more like calling someone a bitch or a punk or arsehole. So that word was just thrown around so freely back then.
"It goes back to that battle, back and forth in my head, of wanting to feel free to say what I want to say ... Man, I say so much s*** that's tongue-in-cheek. But the real me sitting here right now talking to you has no issues with gay, straight, transgender (people) at all.
"I'm glad we live in a time where it's really starting to feel like people can live their lives and express themselves.
"I've been doing this s*** for, what, 14 years now, and I think people know my personal stance on things and the personas that I create in my music.
"And if someone doesn't understand that by now, I don't think there's anything I can do to change their mind about it."
- WENN