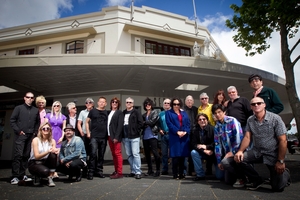 The more senior of these Auckland musicians might have a few war stories to tell about the good old days at the late lamented Ponsonby venue, The Gluepot which closed in the 90s and is now shops and apartments. But the venue isn't the only dearly departed Kiwi music institution being celebrated on stage this week.
On Saturday the Powerstation hosts the benefit concert All Around This Town: The Dave McCartney Tribute. A band especially put together for the occasion will back a tag-team of notable singers including Dave Dobbyn, Shona Laing, and Jordan Luck among others covering the songs of the Hello Sailor singer-guitarist who died earlier this year.
The show will be a benefit for McArtney's family - daughter Moana McArtney is among the performers - and will feature an auction of items of memorabilia and art, including some guitars from his collection.
Luck says the night should be "a magical evening".
"It is an absolute honour to be involved ... the man gifted us with many great songs and I am thrilled to be singing two of them."
Luck and band are also performing tonight in a another Powerstation-based benefit show - for ailing Europe-based former Exponent Chris Sheehan. Also on that bill is a reunited Blam Blam Blam - the post-punk band of Don McGlashan whose later band the Mutton Birds' Sheehan briefly joined.
And tomorrow night, between the two charity gigs, is the second annual Gluepot reunion show. That one will also include the Exponents and McArtney's old band Hello Sailor with guest guitarists, including Dobbyn, in McArtney's spot.
Concert preview
What: All Around This Town: The Dave McArtney Tribute
Where and when: Powerstation, Eden Terrace, Saturday.
Also: Chris Sheehan benefit, Powerstation tonight; Gluepot reunion show, Powerstation tomorrow night.