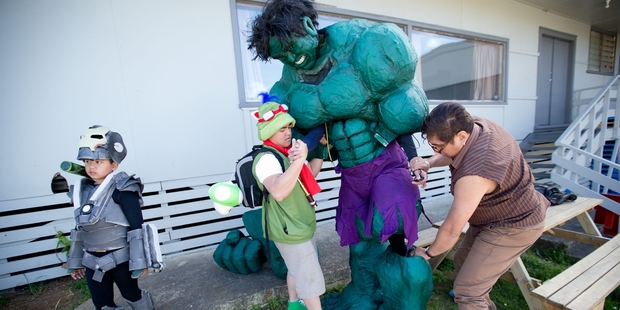 Zion Fernando, 7, waits for his dad Eli to get into his Incredible Hulk costume with help from Andrew Pablo, left, and Erick Javier. Photo / Richard Robinson
It wasn't quite the Armageddon of biblical proportions but huge crowds and a lack of rail services unleashed major delays around the pop-culture expo in Auckland yesterday.
Police expressed concerns about 10.30am when motorways around the venue choked to a standstill. Congestion blocked State Highway 1 in both directions around the Greenlane exit as crowd arrivals peaked for the first full day of the event. Vehicles heading to the Armageddon Expo backed traffic up to Panama Rd northbound, and Great South Rd southbound.
Expo organisers had warned traffic could be an issue as Labour Weekend was when KiwiRail and Transdev, formerly Veolia, cancelled services to do maintenance.
Frustrated expo-goers blamed the lack of trains for the hold-ups.
One person posted on Twitter: "My daughters left Tauranga at 7.30 this morning. Arrived Armageddon 12.30. Bloody Auckland traffic."
Self-professed fan Tosca Waerea said she took a bus from Papakura and had no problem getting to the event, though the crowd numbers were up on previous years.
Armageddon organiser Bill Geradts told the Herald on Sunday last night he was delighted with the 25,000 who turned up but disappointed his plea to defer the rail closure was ignored.
"I phoned a month ago about that as I thought it was crazy not to have trains." Geradts said he was told extra buses would cover the situation.
Armageddon continues today and tomorrow.