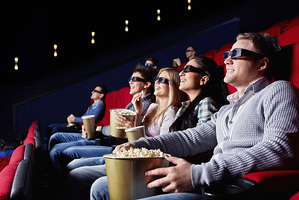 An American cinema chain has come up with a novel idea of how to deal with the much-debated problem of people texting on their phones during a film.
Traditionally the reserve of rowdy teenagers and amorous couples, the back row of AMC's 400 cinemas across North America could soon become the designated "texting aisle".
Complete with soundproofing and barriers to shield the glow of small screens from those concentrating on the big one, the special zone would cater for those movie-goers who can't bear to be detached from the wider world for more than 10 minutes.
AMC said it was looking into the scheme as a way to cut down on mobile phone use throughout the rest of the auditorium, according to reports in The Sunday Times, though it said it had no plans to introduce similar measures at its branch in Manchester.

The newspaper said two other chains, Regal Entertainment and Imax, are also exploring different ways to let people text during films without upsetting other audience-members.
Often debated by grumpy bloggers and squabbling critics, the issue of cinema etiquette came to a head last week when Madonna spent the duration of the New York premiere of 12 Years a Slave, which she attended with director Steve McQueen, tapping away at her phone "for business".
The news led one cinema chain owner, Tim League of Drafthouse Cinemas, to ban the queen of pop from every branch.
While some criticised Mr League for simply using the Madonna story to gain a bit of publicity, he later told Entertainment Weekly that he had wanted to "get the issue out there - that it is rude to text during movies".
As the etiquette of cinema-going continues to adapt to new gadgets, it remains to be seen whether the "texting aisle" idea will cut out phone use in the vicinity of those who simply want to watch a film in peace.
- Independent