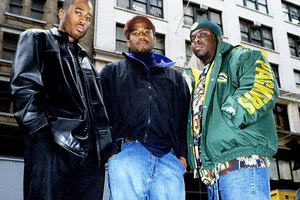 Hip-hop icons A Tribe Called Quest are planning to go out in style after a final tour with Kanye West.
The group, fronted by rapper Q-Tip, has been added to West's upcoming Yeezus shows alongside Pusha T, and it appears the concerts will be the band's last.
In a tweet, Q-Tip writes: "In August, ATCQ did our last show FOR Cali [California]. It's only right we do our FINAL 2 joints (shows) where we started ... NYC." (sic)
Those shows will take place at the Barclays Centre in Brooklyn on November 20 and at Madison Square Garden four days later.
A Tribe Called Quest split in 1998. Their reunion efforts were chronicled in the 2011 documentary Beats, Rhymes & Life: The Travels of a Tribe Called Quest.
- WENN