The expat Somali stars of Captain Phillips tell Jeff Baenen what it's like to be plucked from obscurity to join a film cast with one of their cinematic heroes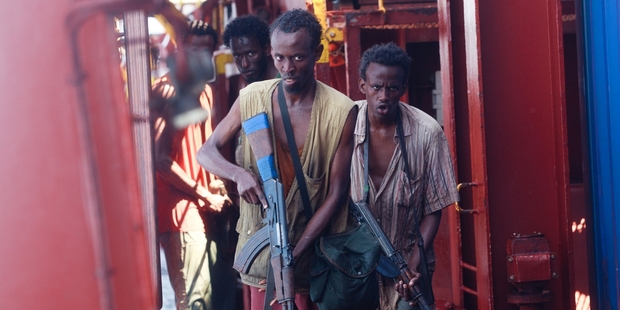 When Barkhad Abdi and three other amateur Somali actors from Minnesota learned they had won major roles in a Tom Hanks movie they tore off their clothes and jumped into the Pacific Ocean.
"It was exciting," Abdi recalls of that day on the beach in Santa Monica "We had to make sure that wasn't a dream."
Abdi and his fellow actors from Minneapolis are now living that dream of red-carpet premieres and Hollywood endings. The four portray Somali pirates who hijacked an American cargo ship off the Horn of Africa in 2009 and took its captain, played by Hanks, hostage.
Abdi, 28, makes his acting debut in Captain Phillips as Muse, the pirates' skinny ringleader, and is generating Oscar supporting-actor buzz for his performance. Before that he had shot and edited videos but "nothing major," he says. Now he wants to make acting his career.
"It feels great, and a little bit scary," Abdi says of his new fame.
"I was kind of a private person [before the movie]. This took part of my life."
Abdi and the other three Somali actors Faysal Ahmed (the "muscle" of the pirates), Barkhad Abdirahman (the youngest pirate, nicknamed "Little B" by his castmates) and Mahat M. Ali (the lifeboat's navigator) - all answered an open casting call at a community centre which is a hub of Minneapolis' large Somali population - in November 2011. Generic flyers sought actors for what was described only as a new Tom Hanks movie. More than 700 aspiring actors showed up. The field was narrowed to the four Minneapolis actors, who all knew each other.
Casting search director Debbie DeLisi said she was looking for "heart and grit" in the actors playing the pirates.
"It's not about being the bad guy," she said.
To capture the shock of the ragtag band of armed pirates storming the ship Maersk Alabama, the Somali actors were kept apart from Hanks until their first confrontation on the bridge.
"It's never an easy thing to scare someone you know and admire," Abdi says of facing off against Hanks.
"For me, it was really a nerve-wracking scene and I understood the weight of it."
Abdi and Ahmed recall Hanks as humble and always joking, and say he acted as their mentor.
In their first fight scene on the narrow lifeboat, the tall Ahmed says he accidentally grazed Hanks with his fist. Hanks shrugged it off, the two talked and a second fight scene filmed a couple days later went perfectly, Ahmed says. "He was a really tough guy."
Ahmed, 29, was born and raised in Yemen and came to the United States in 1999 aged 14. He says the main motive for the pirates from war-torn Somalia was to get money. He tried to imagine himself being that desperate. "If you were put into that situation and wanted to change your life, what would you do? For me, that's something I constantly thought about," Ahmed says.
Abdi was born in Mogadishu, Somalia, and raised in Yemen. He came to the United States in 1999 when he was 14 with his parents and siblings, and said he also understands the pirates' motivations.
"What they're doing is bad. I totally agree with that," Abdi says.
"I was fortunate to have parents who got me out ... So they were stuck in this situation. And I feel compassion."
- AP