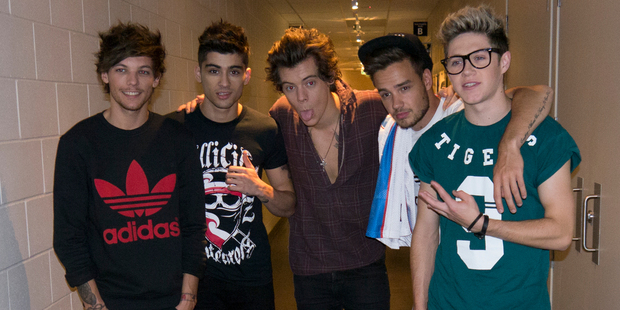 The barriers have been up at an Auckland hotel since the early Friday morning as dozens of One Direction fans wait outside hoping to catch a glimpse of the pop heart-throbs.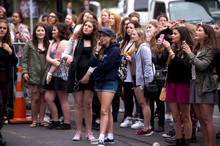 The British boy band, made up of Harry Styles, Niall Horan, Zayn Malik, Liam Payne and Louis Tomlinson, are in Auckland ahead of two sold-out shows at Vector Arena this weekend.
The band played to a packed-out CBS Canterbury Arena in Christchurch on Thursday night, but didn't stick around the city long, opting instead to fly to Auckland after the show.
Dedicated One Direction fans - known as Directioners - have lined-up behind barriers outside The Langham on Friday morning hoping they'll get to see the band through their hotel room window.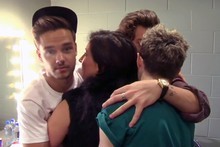 Screams erupted from the crowd when a hand appeared from behind a curtain, but excitement soon turned to disappointment when it wasn't pulled back.
Despite gusty winds and the odd spot of rain, Max Barrowman, 16, and Nikita Cribb, 15, had been waiting outside for three hours to see "the beautiful boys".
The pair are going to One Direction's show on Sunday night and they're planning to go decked out in the band's merchandise.
One of the band's older fans, 18-year-old Sasha Verhoven, said she had stopped at the hotel on her way to university.
"I absolutely adore One Direction, I love them, I've got posters all over my room," she said.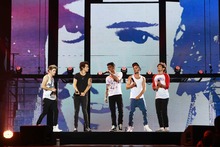 Sasha had front-row seats for the band's 2012 show and she hopes they will come down to meet their fans.
"But if they don't, I'll come back tomorrow," she said.
One Direction shot to stardom after appearing on the British version of The X Factor.
They're in New Zealand as part of their Take Me Home world tour.
The chart-toppers are one of a number of big pop acts to perform in New Zealand over coming weeks.
Rihanna has just played three shows at Vector Arena, and Beyonce will play four sold-out shows at the same venue later this month.
Taylor Swift and Justin Bieber are also touring New Zealand.
- AAP