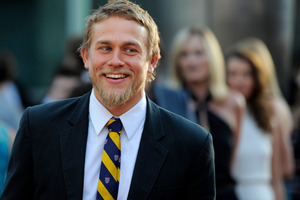 Charlie Hunnam is dropping out of the highly anticipated big-screen version of Fifty Shades of Grey just weeks after being cast as the lead, citing his busy schedule.
Universal announced Saturday that the actor who was to play Christian Grey will depart the project.
The studio called it a mutual decision because Hunnam's preparation time was limited by his television schedule. He stars in the series Sons of Anarchy.
It's an abrupt and embarrassing switch for a high-profile film.
Fans of E L James' erotic best-seller are eagerly awaiting the movie adaptation, which will be directed by Sam Taylor-Johnson.
Dakota Johnson remains in the co-starring role of Anastasia Steele. Hunnam's replacement is being sought.
The 33-year-old Hunnam said last month he initially turned down the role because of timing issues.
And he said he wasn't worried about the film's full-on sex scenes.
"You know what, I had such a baptism of fire with regards to sexuality on camera at the beginning of my career," explained Huunam.
"I starred in the British Channel Four miniseries Queer As Folk where I played a young, gay character and there were some incredible, explicit sex scenes on that show.
"Now I am 16 years older and more mature so I don't anticipate them being too much of a problem. It's like anything else, just an exciting challenge."
- AP