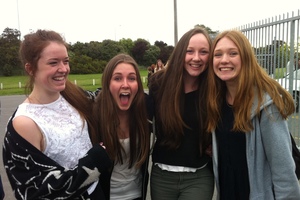 Boy band One Direction have treated fans waiting for their Christchurch gig to an impromptu performance - by playing football in a neighbouring park.
Pop superstars Louis Tomlinson and Liam Payne had a 200-plus strong crowd screaming in delight with their soccer skills.
About 20 police officer and burly private security guards kept the enraptured crowds back while they played, posed, and waved for about 45 minutes.
Hundreds of superfans arrived hours early at the Christchurch venue for tonight's One Direction concert, desperate for a glimpse of the boy band stars.
The English/Irish pop group of Niall Horan, Zayn Malik, Liam Payne, Harry Styles and Louis Tomlinson open their New Zealand tour tonight.
Mystery has surrounded the touring schedule of the world's biggest boy band.
But their private jet finally touched down in the city this afternoon after flying in from Sydney.
It's understood they will now do the show and then jet straight on to Auckland where they have two weekend shows.
A handful of hardcore fans were unperturbed yesterday by Christchurch Airport bosses who told them to stay away as they had no chance of seeing the lads.
They were rewarded today when they saw the singers walk off their jet, with Horan waving to a group of adoring fans.
And six hours before the famous five were due on stage tonight, around 200 mostly young girl fans were already at the CBS Canterbury Arena.
Around 60 youngsters gathered at the rear entrance to the venue, hoping on the off chance their idols will arrive early and give them a wave.
"That's all we want - a wave,' said Tilly Walter, a 17-year from Queen Margaret College in Wellington.
She flew down yesterday with her three close friends, Stacey Collier, 16, Magdalena Regnault, 17, and Alex Wright, 17.
They've been planning the trip "for 536 days - ever since the tickets went on sale", says Miss Walter.
"The excitement levels are off the chart," she said.
Security staff came over to the growing group to say they were welcome to wait there, as long as they didn't play up.
Miss Wright was the only one of the group who didn't go see One Direction's gig in Wellington last year.
Her friends tried to fill her in on the mayhem that lies before her.
"It'll be total madness," said Miss Regnault. "Girls screaming everywhere," says Miss Collier.
Miss Wright didn't know what to make of it.
"I'm just so flustered and unprepared for it. It seems like a dream."
Police say they will have a "significant presence" at the concert venue, both inside and outside, and will also be escorting the group to and from.
"We hope the crowd will be well-behaved but we'll be on hand to monitor the event, support the venue security staff and help ensure everyone enjoys the concert," a spokesman said.
- APNZ