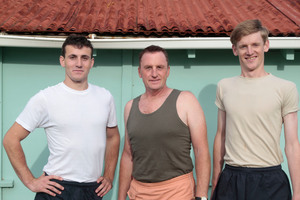 New Zealand documentary The Golden Hour has been nominated for an International Emmy award.
The film, which tells the story of the Arthur Lydiard-inspired gold medal winning races of Peter Snell and Murray Halberg at the 1960 Rome Olympics, has received a Best Documentary nod.
Executive Producer and Creator Steven O'Meagher said the nomination was a thrill for all those who worked on it.
"We knew it was breaking new ground during the project, but it's fantastic to receive this acknowledgement from our peers internationally," he said.
"An Emmy is the industry's equivalent of a gold medal."
He said they were happy just to be nominated.
"Regardless of what happens on November 25, this is a wonderful endorsement for the whole team that worked so hard to make this such a successful piece of television."
The 90-minute story, which was written and directed by Justin Pemberton and produced by Polly Fryer for Desert Road Television, aired on TVOne last July.
TVNZ commissioner Jude Callen said the organisation was "absolutely thrilled" the film was being recognised on the world stage.
"When Desert Road first brought TVNZ this powerful story we knew immediately our New Zealand audiences would love it, but for it to also be acknowledged internationally is the icing on the cake," she said.
The Golden Hour goes up against documentaries from South Korea, France, and Mexico for the gong.
The winner will be announced at the glitzy 41st International Emmy Awards Gala ceremony in New York on November 25.
- APNZ