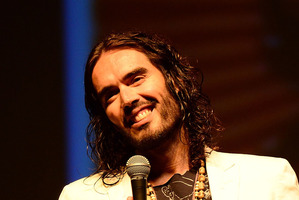 Russell Brand kissed several female fans over the weekend after claiming he is single.
The British comedian was recently linked to writer and campaigner Jemima Khan.
However he surprised his audience in Atlanta, Georgia, on Saturday when he confirmed his alleged romance had come to an abrupt end.
Brand, who divorced Katy Perry last year, was ending the US stint of his Messiah Complex world tour when he got particularly close to a few women in the crowd.
"I'm currently single," he stated.
He then proceeded to lean in to a group of screaming fans in the front row and locked lips with several of them, while others nearby grabbed whatever part of him they could reach.
Brand was also tossed a pair of pink underwear belonging to a woman in the crowd, which he wrapped around his leg at the end of the show.
His flirty behaviour comes after he and Khan were spotted looking loved up during an outing in New York earlier this month.
He previously revealed he was dating a certain female but kept her identity secret, only describing her qualities.
"I'm not typically immune to the allure of objectified women, but I am presently beleaguered by a nerdish, whirling dervish, and am eschewing all others," he told British newspaper The Guardian.
Follow @nzherald_ent on Twitter for all the latest entertainment news.
- Cover Media