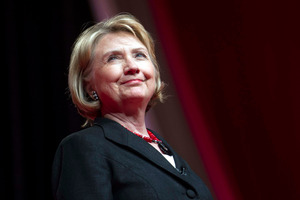 A TV mini-series starring Diane Lane as former US first lady Hillary Clinton has been scrapped on the same day a planned CNN documentary about the US politician was axed.
Producers at America's NBC network had been developing a new show focusing on Clinton's time in the White House during the second term of her husband Bill's presidency.
However, network bosses have now pulled production on the project.
"After reviewing and prioritising our slate of movie/mini-series development, we've decided that we will no longer continue developing the Hillary Clinton mini-series," the NBC said in a statement on Monday.
The news comes as Oscar-winning director Charles Ferguson decided against moving ahead with his Clinton documentary for CNN amid claims sources in both the Democratic and Republican party refused to speak on camera about the former Secretary of State.
"When I approached people for interviews, I discovered that nobody, and I mean nobody, was interested in helping me make this film.
Not Democrats, not Republicans - and certainly nobody who works with the Clintons, wants access to the Clintons, or dreams of a position in a Hillary Clinton administration."
Both projects also came under pressure from Republican National Committee chairman Reince Priebus, who vowed to boycott the networks if executives pressed ahead with plans to unfairly promote Clinton ahead of the 2016 presidential elections, when she is expected to put herself forward as a candidate for the Democratic Party's presidential nominee.
- WENN