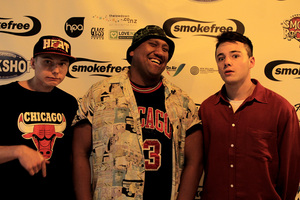 Promising young musicians battled it out in the annual Smokefree Rockquest on Saturday night, with winners A Bit Nigel taking top spot over 600 other entrants.
The three-piece beat five other finalists, while soloist Harry Parsons, from Cambridge, was the solo-duo category winner.
A Bit Nigel's band members Hamish Nixon, Sam Marshall and Manawa Veitayaki attend Taupo-nui-a-Tia College and Rotorua Boys' High School.
Competition judges hailed them as potentially the "next big thing" to hit the New Zealand music scene.
"They're a young band with a fresh sound...they've got originality, they've got swagger, musicality, and they were at home on the stage," said The Edge assistant programme director Clint Roberts, one of five judges.
Mr Nixon, the lead singer, said the band did not expect to win.
"We've been experimenting for three years and we finally found what the judges wanted. We're hoping to all be studying in Auckland next year, so we'll be chilling out over summer, making the video, playing gigs and keeping the band together next year."
Cambridge High School student Harry Parsons won the solo-duo section with his alternative folk sounds.
He has entered Smokefree Rockquest three times before, but said his final performance on Saturday was the most comfortable he has felt on stage.
"In the beginning I was so shy I couldn't look at the crowd, but I have learned so much about music and performing through rockquest," he said.
A Bit Nigel won $10,000 worth of musical gear from the New Zealand Rockshops, while Mr Parson won $3000 worth.
Both will get recording time and a music video grant from NZ on Air, among other prizes.
Second placed band was Auckland's The Moots and second placed solo-duo was Khona Va'aga-Gray, also of Auckland.
The competition is in its 25th year.
- APNZ