Alicia Keys is having a blast touring with her son Egypt and her husband and can't wait to return to New Zealand, she tells Lydia Jenkin.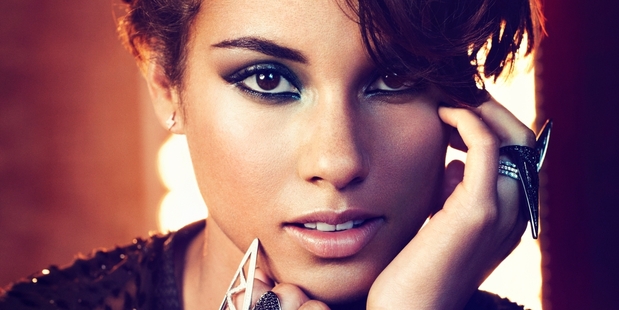 South America is very much agreeing with Alicia Keys, as she explains to TimeOut, all warm and enthusiastic, down the line from Rio de Janeiro.
"This is my first time here, and it's incredible. The music, you know, discovering it first hand and all, and the people, and the weather, and the mountains, and beaches, and street art, it's all incredible."
The golden girl of American R&B has been touring her fifth studio album, Girl On Fire, for nearly a year, but she doesn't seem in the slightest bit fatigued, or jaded by endless days on the road. In fact she's loving the tour life this time, in no small part because her 2-year-old son, Egypt, and husband Swizz Beats are also with her.
"It makes my touring experience much more complete than it's ever been before, you know, now I feel like I'm so happy to tour. I think it's definitely partly because Egypt is here - being with him pushes me to find cool new things to do, to show to him, and then I'm seeing things that I've never seen too, in a way I've never seen them.
I'm seeing things through his eyes."
She has been to New Zealand before - she was last here in December 2008 - but she's looking forward to returning, and finishing her Set The World On Fire tour with a "final hurrah" as she calls it, in Auckland.
"You know what always seems to happen?" she laughs. "I always end up down there right before Christmas, so if we want to spend extra time exploring, either I bring the whole family down and we stay there, or I have to come back. But I love coming to New Zealand, it's beautiful, and with Egypt, I think this time will be a deeper experience."
Another reason this touring experience has been resoundingly positive for Keys is the pride she has for Girl On Fire. With song titles such as Brand New Me, Limitedless, New Day, and of course the title track, one might guess she was feeling empowered and courageous when writing the album, and even after performing the songs to millions, she still finds they have a strong effect on her.
"I love these songs very much. They're very powerful for me, and they're a significant part of the journey I'm on. This album was such a triumph for me, because it was really the beginning of me finding my own way, making up my own mind, working out creatively what I want and what I don't want. It's very much about my personal growth, and so they're very triumphant songs."
There's a reasonable amount of pressure on female pop stars to continually out-do each other in the scale of their live shows these days, but though Keys certainly wants to impress, and her show will undoubtedly include large sets and backdrops and costumes, perhaps even some fireworks, she also places great emphasis on the intimacy of the show.
"I feel like I've found my balance and my way of expression with this show. I like my shows to be intimate, and relatable. There's no greater compliment for me when someone says, that even though I might be playing to an arena of 20,000, it still feels intimate. That's a huge compliment as a performer, because there's nothing like performing to a small crowd. You can see them, and connect with them - that's what you really want to do."
"So everything in this show helps to tell the story, whether it's to do with the lighting, or the set, or the dancers - I only have four male dancers, which I love - but each movement, or detail is about expressing the emotion of the song, no one just moves for the sake of moving. So I love this show. I feel more confident than I've ever felt before."
Of course having John Legend along for the Australasian leg will be a great bonus, not just for fans but also for Keys, who co-wrote two songs from Girl On Fire with Legend, and has known him since her early days in the industry.
"He actually helped to write the first single from my second album, You Don't Know My Name, with Kanye West and Harold Lilly. That was the first time I was introduced to him. And then he opened for me when his first record came out in 2004, and we've been friends ever since. But strangely enough we hadn't actually written anything together, and so with this album we finally got around to it.
"And we had such a good time, we looked at each other and went, why don't we do this all the time? What took us so long? He's very cool, and he's a really talented artist, I respect John a lot, because he's the real deal."
They're yet to discuss the technicalities of appearing on stage together, but it seems likely we'll hear them sing at least one duet.
"I feel like it would only be right," she says mischievously.
Who: Alicia Keys
What: Set The World On Fire tour, and latest album Girl On Fire
Where and when: Performing at Vector Arena, with support from John Legend, on Thursday, December 19.
Follow @nzherald_ent on Twitter for all the latest entertainment news.
- TimeOut