TV show focuses on rural adventures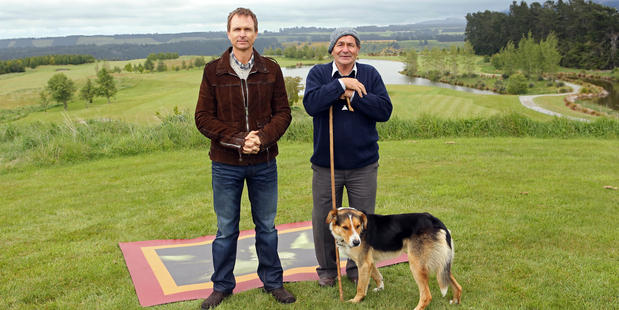 Apparently, our salmon are vicious fish that attack people and we like to be lacquered in molasses and feathers while hunting eggs.
That's the impression about 10 million Americans have of us after viewing a New Zealand visit by multi-award winning series The Amazing Race.
Tourism New Zealand paid to bring one of America's most popular reality television programmes Downunder and show off the earthquake-ravaged Canterbury region as an international visitor destination.
The third episode in the latest series of the award-winning Amazing Race will screen here this week, six months after it aired in the United States to an estimated 9.2 million viewers.
The episode steers contestants away from rubble-strewn Christchurch and into an adventure-packed two days on farmland where they jetboat up the Rakaia River, quadbike, fish for salmon and pilot rally cars around a high country station.
The American contestants wax lyrical as they drive through the region's lush back country roads.
"New Zealand is so pretty. It's so green here. I've never seen anything like this."
Contestant Joey Graceffa quips: "Lord of the Rings style. Where's Frodo?"
Much is made of the region's eye-catching remote terrain and sweeping snowcapped peaks.
Amusingly, English subtitles are provided for local fish and game manager Dirk Barr who keeps a straight face as he tells a father-and-son team the salmon are dangerous and might attack them.
One of the more unusual tasks is taking part in a muddy obstacle course activity called a "shemozzle".
Contestants are required to dress in traditional shepherd attire of gumboots and stubbies, before being coated with molasses and feathers while running through a course collecting fresh eggs.
Raytec Car Club president Doug Good arranged a rally challenge for the show and told the Herald on Sunday the Americans had trouble driving the cars.
"They had to jump in the cars and work out what a gearbox was," he said.
"There was a fair bit of crunching and stalling while they worked out how to drive it."
The episode finishes at the luxury Terrace Downs resort at Windwhistle before contestants leave for the next leg of the round-the-world competition in Asia.
Tourism New Zealand communications manager Deborah Gray refused to say how much money was spent to bring the international hit show to our shores. She said the funds used to bring The Amazing Race to New Zealand came out of a total marketing budget which amounted to $58 million in the last financial year.
Tourism New Zealand said it would not disclose the amount it paid to host the US broadcasters as it was commercially sensitive.
The Amazing Race first aired in 2001 and has won the outstanding reality-competition show category nine out of 10 times at the Emmys since 2003.
It is tipped to make that 10 out of 11 at the 65th primetime Emmy Awards tomorrow.

• The Amazing Race screens on TV2 at 7.30pm on Tuesday.