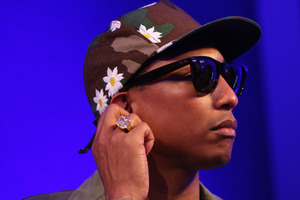 Will.i.am and Pharrell Williams are locked in a lawsuit battle.
The former Black Eyed Peas singer originally issued a cease and desist letter which demanded his Interscope Records label mate stopped using the phrase 'I AM' in relation to his ' I AM OTHER' YouTube channel.
According to TMZ, Pharrell hit back with a lawsuit in an attempt to protect his right to use the moniker - before will.i.am counter sued and claimed he has a copycat history.
The gossip site reports that the Scream & Shout hitmaker has cited the producer's record label 'Star Trak Entertainment', and that he also faces legal action from Marvin Gaye's family for allegedly ripping off Got to Give it Up for Blurred Lines, his hit with Robin Thicke.
In his case, will.i.am also claimed Pharrell tried to register the trademark 'Pink Slime', which he insists is too similar to 'Slime', owned by toy manufacturers Mattel.
Robin Thicke - who co-wrote Blurred Lines previous took legal action against Marvin Gaye's family and insisted in his case that the tracks bore "no similarities" to each other.
The lawsuit cited: "There are no similarities between plaintiffs' composition and those the claimants allege they own, other than commonplace musical elements.
"Plaintiffs created a hit and did it without copying anyone else's composition."
- BANG! Showbiz