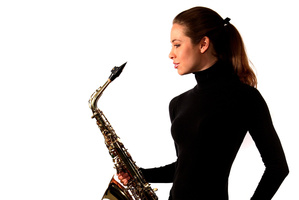 Auckland Philharmonia Orchestra's Joie de Vivre concert on Thursday dispensed such exhilaration that one regretted more Aucklanders had not come along for this early spring cheer-up.
The body language of conductor Jean Deroyer was, to say the least, sometimes mystifying. He stooped, pacified, slapped the air and set hands in a feverish twirl - resulting, by some strange alchemy, in a night of French music that would have passed muster with the most ardent Francophile.
Ravel's Ma Mere L'Oye is a jewel box of fantastical tales, from sleeping beauties and Oriental empresses to a walk through an enchanted garden. Deroyer painted in sound, with the players responding to every stroke of his brush, from a whispered Pavane to the final burst of glittery conflagration.
Laideronnette was all gleaming cloisonne brilliance while Beauty and her Beast conversed over music that suggested Satie with attitude.
Australian Amy Dickson brought us Pierre Dubois' 1959 Concerto for Alto Saxophone, a light, frothy charmer of a piece.
The glamorous Dickson did not stint. She accounted for every flying semiquaver in the composer's opening nod to Bach. Indeed, after such an impressive build-up, the Allegro, sparkling though it was, seemed a mite slight.
The spirit of Satie rose again in Dubois' central Sarabande. Dickson's winding, melancholic lines gained poignancy when she offered her own individual phrasing and players together with the audience relaxed in the uncluttered fun of the hornpiping Finale.
Orchestrally, Paul Dukas is best known for his Sorcerer's Apprentice; after interval, we were given the Frenchman's masterpiece, the 1897 Symphony. Boldly set in C major when many contemporaries were straying from the Garden of Tonality, Dukas displays the defiance of a musical swashbuckler, with punchy brass, including a rallying quartet of horns, often riding along at a 6/8 gallop.
The APO took to it in good spirits, with spot-on playing, as Deroyer guided them through some slippery, Straussian harmonic shifts, with even the tuba given the sort of workout you might expect in a musical gym.