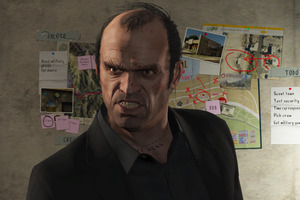 A British man who bought one of the first copies of Grand Theft Auto V has been stabbed, hit with a brick and robbed of the brutally violent new video game.
The 23-year-old was leaving a supermarket in north London early on Tuesday, just 80 minutes after the latest instalment of the blockbusting game series went on sale.
"The victim had been shopping and was on his way home when he was hit with a brick. He was then stabbed and robbed," a Metropolitan Police spokesman told AFP.
"A copy of Grand Theft Auto V, a watch and a mobile phone were stolen.''
The man was in a stable condition in hospital following the attack, the spokesman added.
The attacker or attackers remained at large.
Fans around the world have snapped up copies of Grand Theft Auto V following its release on Tuesday, with long queues in many countries in Asia and Europe and even a stampede at one shop in the Netherlands.
Rockstar Games spent five years crafting the title with a rumoured production budget of US$270 million, dwarfing the outlay on some Hollywood films.
- AFP