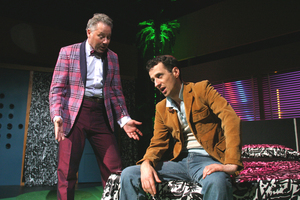 Wellington's longest running professional theatre, Downstage, will close its doors for good at the end of the week after a decision by Creative New Zealand to stop funding it next year.
The theatre had presented shows for 50 years.
The board had not taken the decision lightly, said Downstage Theatre Trust chairman Allan Freeth.
"In recent years the theatre has pursued a new model - based on partnerships with artistic companies, taking risks on new works, and creating a supportive environment for artists.
"It is not possible to continue this work without adequate and stable funding."
The theatre closure will take place on Saturday at the end of the season of Live at Six, which is currently showing.
Wellington City Council's Arts and Culture Portfolio spokesman Ray Ahipene-Mercer said he shared the sadness many Wellingtonians would feel about the announcement.
Downstage had put in "heroic efforts" in recent years to keep operating and had been an exemplar in terms of its creative output, Mr Ahipene-Mercer said.
"Downstage has had a great and storied history over the past five decades. It has delighted generations of Wellington theatre-goers and has launched many careers.
"However all artistic endeavour has a life cycle."
The City Council would work to encourage and assist any theatrical ventures that would rise in Downstage's place, he said.
"We need to be positive about what that could be - while at the same time recognising the personal hurt that will be felt by the founders, staff, supporters and fans of Downstage.
"One of the great things about art and culture is you never know what will emerge."
- APNZ