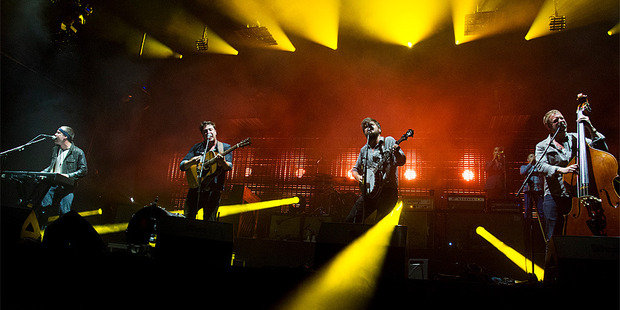 Despite conquering both sides of the Atlantic with their wholesome folky charm, Mumford & Sons have revealed their bad boy side after reportedly getting kicked out of an American strip club.
On Tuesday night the band visited Atlanta's oldest strip club, Clermont Lounge, while in between tour dates, and were allegedly thrown out for misbehaving.
But Marcus Mumford, Ted Dwayne, 'Country' Winston Marshall and Ben Lovett didn't get up to the kind of boozy antics you might expect of four twenty-something men in a nightclub filled with scantily clad women..
One of the club's most staunchly imposed rules (after no touching) is no filming.
The boys were seemingly thrown out for their love of music, as they allegedly refused to stop filming drummer Lovett on their phones as he took to the stage to perform karaoke.
The DJ reportedly had to lower the music several times to ask the boys to put their phones away, which annoyed Lovett, who is said to have accused the DJ of ruining his karaoke moment.
The band were then chucked out of the club. In a grainy video of the incident that has appeared online, a British voice can be heard shouting "Everybody out! Go, go, go!"
Mumford & Sons' representative declined to comment.
Fans of Mumford & Sons include Prime Minister David Cameron, who recently joked that he had helped the band achieve success in the US after getting them on the bill for a White House reception.
The boys, who headlined at Glastonbury in July, scored the UK's fastest-selling album of 2012 with their second record, Babel.
- Independent