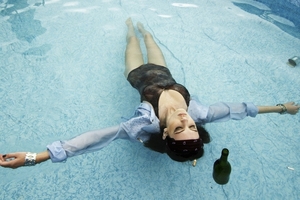 It takes you by surprise when the characters in this modern-day Shakespearean rock-opera open their mouths for the first time - rap comes out.
It's unsettling at first, as is the trashy Kiwi caravan park setting, but quickly you're dragged into this highly original take on the bard's classic tale, with Shakespeare's more-than 400-year-old words delivered in songs with styles ranging from rock and pop to hip-hop, gospel and sweet ballads.
There's energy and a sense of humour to this adaptation, which Michael O'Neill and Peter van der Fluit began writing in 2004. In 2010 Lord Andrew Lloyd Webber's ArtsEd, a leading London performance academy, performed the stage musical version, and in 2011 filming began on the film version at Auckland's Waipu Cove, directed by music video veteran Tim van Dammen.
The caravan park is an unusual and clever setting, we can giggle at the overflowing ashtrays, caravan interiors and copious crates of beer, but it's an ideal location for teenage romance, warring families, sudden bursts of violence and odd characters doing odd things.
Mostly because there's nothing else going on. The casting is superb, with new and interesting faces as well as a few you may recognise in their caravan park get-ups - just. Newcomers Christopher Landon and Derya Parlak do a stellar job as Romeo and Juliet, but the conflict between the Montagues and Capulets provides plenty of moments for other players.
Cameron Rhodes as campground manager Prince invites us into the story with a hilarious and over-the-top performance, reassuring us it's okay to have a laugh, and that there will be plenty of time for tragedy.
He's quickly upstaged by Leah Wilkinson playing his daughter who, with a nod of her head to camera, confirms the offbeat nature of this adaptation.
Sol Johnny also does a beautiful job as Juliet's father, tugging at heartstrings as he discovers Juliet "dead" in her caravan.
It takes two people, though, to bring these characters alive - one to act out the performance and the other to sing the lyrics. The cast of last year's Les Miserables told us how challenging it was singing live but what you get here is a master-class in lip-synching. And for the most part actors and vocals come together beautifully, so much so you feel a little cheated when the credits roll and reveal the truth.
Romeo and Juliet: A Love Song isn't without some wobbles, and some tracks aren't as lyrically clear and catchy as others, but the ambition of this project should be admired. It's not aimed at Shakespeare purists, or for that matter teenagers who prefer to watch rather than read plays, but rather it's a brave piece of film-making for those who appreciate the storytelling magic of music and can't resist the theatrics of a musical.
Stars: 4/5
Cast: Christopher Landon, Derya Parlak
Director: Tim van Dammen
Running time: 107 mins
Rating: M (violence)
Verdict: An offbeat, ambitious, unique take on a classic
Follow @nzherald_ent on Twitter for all the latest entertainment news.
- TimeOut