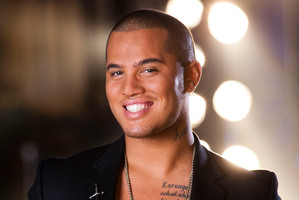 Any doubters of the power of reality TV to propel aspiring popstars into the big time only had to peek inside Stan Walker's Auckland show on Saturday to realise that maybe there's something in this manufactured pop machine business after all.
Not only were there hundreds of kids going mad for our most successful product of the genre, but Walker's confident and entertaining performance proved great things can come out of these shows, and that he has as much right to be up there on stage as any talented person, regardless of how they got there.
And he's proved they can have staying power too. Of course, it helps that in the four years since Walker took the Australian Idol title in 2009 he's had a constant presence in the pop charts. And that spot on The X Factor NZ judging panel did nothing to hurt his profile either.
Walker's tour is a two-month 23-show national jaunt - quite an undertaking due to the posse he's got in tow which includes a full band, four backing singers and four dancers, as well as X Factor finalist Whenua Patuwai, the show's opening act.
When Walker opens his mouth to belt out his lyrics the power is undeniable - but who knew he was such a good dancer? As his identically dressed all-male dance troupe stalked him around the stage, the five effortlessly delivered matching choreography to his more up-tempo hits starting with Reinventing Myself and Black Box, before Walker encouraged the audience to have a go themselves at "grinding". An acoustic set with his back-up singers was followed by a slightly odd speed-through of the plot of this year's Mt Zion, in which Walker played the lead role, which gave him the chance to sing some of the songs from the movie, while the the last section of his club bangers - Loud, Let the Music Play, Bulletproof - had the audience dancing in the aisles.
Patuwai joined Walker on stage for the encore of Mt Zion hit Take it Easy, and for a moment the line between reality and reality TV was blurred.
Music review
Who: Stan Walker
Where and when: Aotea Centre, Saturday.
Follow @nzherald_ent on Twitter for all the latest entertainment news.